Gifts From Students for Their Teacher's Retirement: Creative Ideas to Delight Unforgettable Teachers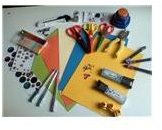 Memory Book
Months in advance of the retirement, discuss with students what retirement is. Make this a teachable moment by discussing gift giving.
Where did the idea come from and when? Brainstorm gifts for teacher retirement from students so that they can decide what to do. Here are some ideas to discuss.
Supplies:
large scrapbook
extra scrapbook pages
glue
photos
scrapbook page liners
scraps of colored paper
stickers
children's artwork
other odds and ends to decorate the pages
Procedure:
Allow students to design their page on their own. Give guidance as to technique, not content. Students can bring items from home to place on the page.
As each student completes his/her page, carefully place it into a clear plastic scrapbook page. Number the pages so that you can provide an index with the students' names and a small picture of them for the teacher to refer to in future years.
Memory Video
Supplies:
video camera and tape (unless it is digital, then tape is not needed)
place to video students
photos of activities in which the teacher participated
Procedure:
Set up an area where students can be comfortable during the recording. You can give them a list of questions to choose from such as, "What is your most favorite memory of Mr./Ms. Smith?" or "What would you like to thank Mr./Ms. Smith for?" Have them prepare what they want to say ahead of time. This way, they can either read it off cue cards or memorize it.
Alternately, you can simply tape the students giving their answer to, "Why Mr./Ms Smith is my favorite teacher," however, if students pause or get interrupted in their thoughts, someone will have a great deal of editing to do.
The addition of a montage of photos of the students and the retiring teacher can be added with music in the background. This is easily accomplished using QuickTime or Final Cut for Mac.
This is a teachable moment when students are taught how to do the videotaping and editing process.
Community Meditation Garden
Teachers plant seeds of knowledge. If the teacher who is retiring is known to many in the community, then a garden created on or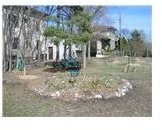 near school property is a perfect and lasting memorial.
Preparation:
Secure whatever permission is needed to create the garden. This may be permission from the superintendent of schools or a permit from the town planning board.

Design the layout of the garden. Do not get too extravagant. Keep it simple. You will want plantings that are low/no maintenance perennials as well as an area for a bench or benches.

Contact local greenhouses for donations and/or advice. Many local companies will gladly participate in a project such as creating a meditation garden in honor of a beloved teacher.

Schedule specific days for creating the garden. Ask students, parents and community members to assist. Students can plant flowers under the supervision of an adult. Learning the names of the flowers and how to plant and care for them can be part of a science project. It is a great teachable moment.

Organize the dedication ceremony. If possible, have a plaque created in time for the dedication that will tell why the garden was created with the name of the teacher and the dates during which he/she taught.
Other Thoughts
Other simple gifts for teacher retirement from students might be:
Planting a tree that the students raised funds to purchase.

A talent night given by students with proceeds going to the teacher's favorite charity - this is great for a music or drama teacher.

A permanent art piece, such as a wall mural - student created with guidance - a plaque can be added once it is complete.
Gifts for teacher retirement from students who are learning how to give of themselves, how to use technology, or how to plant and care for a garden, are of benefit to all. These gift suggestions are sure to touch the heart of any teacher as they transition to retirement.
Photos-Wikimedia Commons/Baste985/Free Art License; Wikimedia Commons/Elkman/GNU Free Documentation License