Learning a Second Language with Bilingual Books: My Second Language Review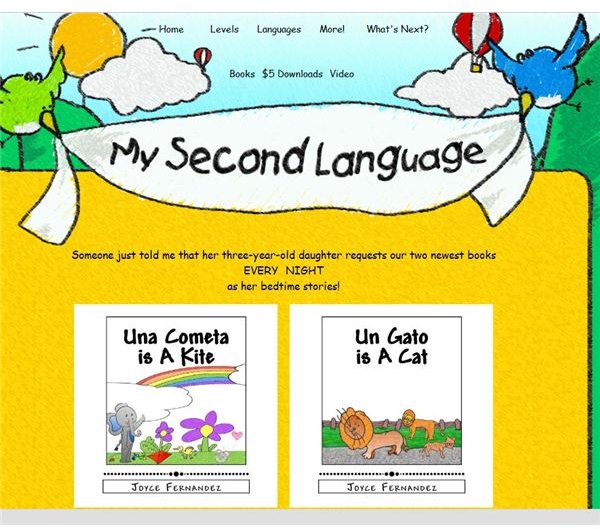 About the Series
The My Second Language series was developed by Joyce Fernandez when, through her experience teaching Spanish and French, she
came to understand how much easier it is to learn a language early in childhood.
The My Second Language series is not limited to bilingual books for learners of Spanish and French but also includes bilingual books to learn Vietnamese, Arabic, Japanese, Chinese, Italian, German and Portuguese. The text of the books is written identically in both languages so that native speakers of these languages can also use the books to learn English. These bilingual books are leveled, beginning with introduction of vocabulary words and simple sentences, progressing all the way up to fun children's stories.
How the Series Works
The Level One books, Uno y Dos Are One and Two, and Arriba is Up! (titles referring to the English/Spanish version of the books), introduce vocabulary directly in vocabulary lists and then give example sentences, all flowing into the story. Uno y Dos Are One and Two demonstrates numbers, colors and shapes in the new language while telling the story of a cute kitten's birthday party. Arriba is Up! takes the reader through a little elephant's adventures in the park with his mother and playmates as they explore, play, and learn, all things that young readers can relate to and will want to know how to express in their new tongue. Level Two books cover the same themes as the Level One books but focus on a more thorough level of language: sentences, prepositions and command structures.
Once the basics are well understood, learners of a new language can advance to the Level Two books, which teach through storytelling. So far, titles include Velero Is a Sailboat and Little Bird. Similar to an easy reader or leveled reader, the Level Two books use basic vocabulary repeated throughout to tell the story so that readers practice within the context of an entertaining tale. The vocabulary and sentences are more advanced than those in the Level One books. Joyce Fernandez, founder of My Second Language Publishing, also offers Level Three books, which are photo storybooks that may be used independently or with the other books.
Classroom Use
The bilingual books in the My Second Language Publishing series should be used in a classroom to teach vocabulary. The vocabulary is introduced in list form to facilitate this for the teacher. The sentences that feature the vocabulary can then be taught naturally by reading the books together out loud, or having children practice by reading parts to each other in the Level One books.
For students who have mastered the basic vocabulary in the Level One books, teachers can use the storytelling Level Two books to reinforce what students have learned in Level One. They offer practice and also teach other classroom literature skills such as story elements and cause and effect. For example, in Little Bird, what is the effect of Kevin feeding Little Bird? What would have been different if Kevin had chosen not to feed it? What does this say about Kevin? Students can use the language taught between the classroom lessons and the books to discuss the books at length or write responses to the literature in a journal.
Teachers could also send these bilingual books home as a resource for parents to help their children practice. Because the English and the second language are written together, even parents who do not speak the other language can participate in their children's success.
Recommendation
In conclusion, the My Seond Language series should be considered a necessary tool to accompany what a child learns through direct teaching in a language classroom. They will help transition a child from bilingual to biliterate, which is the ultimate goal.
Once children get excited about learning one language and see how enjoyable it can be, they might even ask to take on another language and ask to get another set of books. Even if parents do not speak the second language, they can learn along with their child, and keep the books where the children can access them so that they take ownership of their learning and see it as another form of fun play. Considering they can be downloaded for $5.00 each if the learner does not require a hard copy (a reasonable $15.95), this makes them so affordable that not using these books to teach children another language becomes inexcusable. Images and more information on these bilingual books are available at www.mysecondlanguagepublishingusa.com.