Keep Kids' Skills Sharp Over Break: Ideas for Parents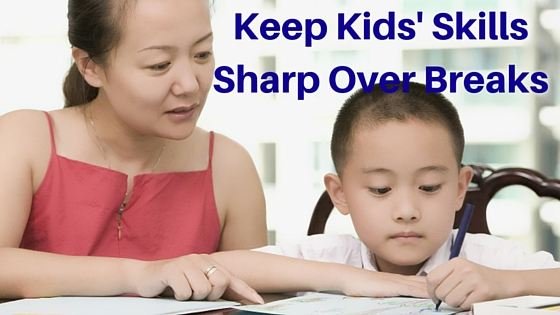 Teaching information to kids is the easy part. Maintaining these skills over time is the hard part. Teachers will tell you that the hardest part about instruction is making sure kids maintain what they learned while moving onto new learning. If kids do not maintain the gains they make during the school year, teachers have to spend a great deal of extra time reteaching the material they have forgotten in order to get them back up to speed before proceeding with new information.
Maintaining the skills and knowledge that kids have learned in the past sets the tone for future learning and acquisition of skills. In math, for example, students cannot proceed with new skills until they have achieved the required prerequisite skills that are needed for the new task. Students who lag behind in the skills that were supposedly already mastered in the past, find themselves lost and confused when trying to achieve mastery on the higher tasks later.
What can parents do to help kids keep the gains they've made along the way? Here are a few ideas:
Reinforce Old Material at Home
Ask your child's teachers for some worksheets or activities that they can practice with at home to reinforce skills already learned. Simply by revisiting the material and skills again, it may reinforce the material and expose students to skills they may still be struggling with. Repeated exposure to problem areas has been proven to help students achieve at higher levels over time, when faced with new tasks.
Get a Summer Tutor
The summer break is the longest break of the school year, and it is often when students lose the most ground in terms of maintaining their skills they have learned during the school year. Having a summer tutor who comes to your house to work with your child during these summer months away from school can mean the difference between maintaining the progress they have achieved and losing essential skills due to non-exposure. Many tutors can be found online, or you may enlist the help of a local high school student or retired teacher to work with your child over the summer months.
Find Software Programs or Apps that Address Skills
Many software programs are available that help kids maintain the skills they have learned and help drill and practice skills that they may forget if not reinforced. Apps are fun and they appeal to kids who love to stay glued to their mobile devices. Many educational apps are available for download on both the Apple (iOS) platform and Google Play environments. Go to the iTunes store or Google Play store to see what is available by performing a search for specific skills or education apps.
Ask Your School to Help
Talk to your school counselor, principal, and teachers about how you can help your child to maintain their skills at home. They may have other ways you can reinforce what they learn during the school year. One such way may be to get an extra copy of textbooks that are used at school to work on at home. Students use more mobile devices than ever before so some teachers may send links to mobile resources that you can download or take home on your child's mobile device to help increase the consistency between home and school work. There are a number of ways you can better reinforce and coordinate the work your child does at school with what they do at home. Talk to your local school to find out more.
References