Reading to Dogs Programs: Reading Assistance Dogs Help Struggling Readers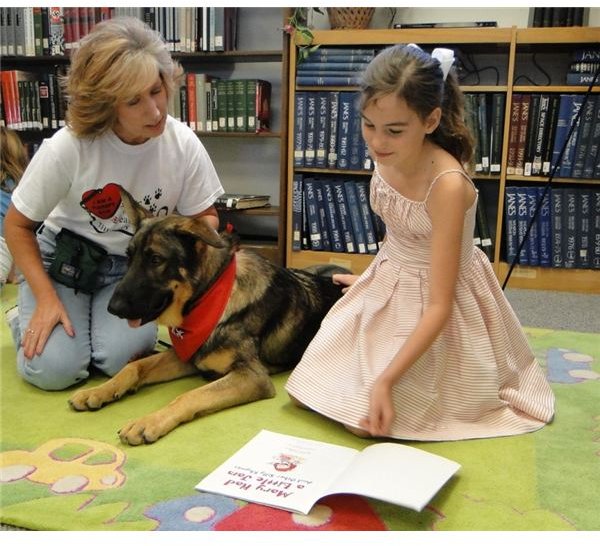 Building Confidence
The most profound and observable benefit of reading to dogs programs is the change in the student's attitude toward reading. These literacy programs provide students with something more than simply practicing language.
Francine Alexander, the chief academic officer at Scholastic, the children's book publisher, explained in a recent article for ABC News that, "Kids have to practice, practice, practice to be good readers, and yet, when you're practicing, if you make a mistake, it can feel risky and uncomfortable. But if you're practicing with a dog, you don't mind making the mistake."
Research done by Tufts University's Cummings School of Veterinary Medicine showed that students who participated in a Reading Education Assistance Dogs (READ) program improved their reading significantly, while research by the University of California Davis showed improvement in reading skills to be as high as 12 percent. Additionally, educators who have tried the READ program report that along with building reading confidence, students overall behavior and attitude towards school and learning improved.
Garland Walton of Domus, a non-profit organization that helps literacy specialist in Connecticut school said, "Many kids who might otherwise be resistant to literacy instruction ask to read with the dogs and see it as a treat."
READ programs, whether found in classrooms or libraries, have gained popularity across the US and Canada. From the site used in the Tuft University research in the Grafton (Massachusetts) Library to the Paws to Read program in Orange County Florida, to the Maidstone Library in Kent County, England and the Vancouver and Ottawa schools in Canada, READ programs have created readers with the aid of canines.
Quick History
The use of dogs to help people with various emotional and psychological issues is credited to an American nurse working in England, Elaine Smith. Smith witnessed the positive response of patients to the hospital chaplain's golden retriever. In 1976, when she returned to the US, Smith founded Therapy Dogs International. Within a short period, therapy dogs were being used to aid in a variety of medical settings, including nursing homes and hospice.
In 1999, the Reading Education Assistance Dogs Program was first introduced to the Salt Lake City Library by Intermountain Therapy Dogs, a non-profit organization based in Utah. The library program, Dog Day Afternoons, brought children and dogs together for story time with great success.
Spurred on by this success, staff of Intermountain Therapy Dogs brought the program to the Bennion Elementary School in Salt Lake City the following year. The success of this innovative program is evidenced by the growing number of school districts that are including READ programs in their curriculum.
How to Find Reading Dogs
The READ program is international, with affiliate organizations in most states, Canada, Britain, Italy and Slovenia. At therapyanimals.org, there is a list by state and country of the affiliate programs, as well as resources for those interested in either becoming a reading dog team or organizing a reading dog program in their local school, library or community.
Training
Reading dogs are specially trained for their work with children. The dogs and their handlers, considered a team, must pass a rigorous program.
After an initial application review, the team is evaluated. First, the animal is evaluated to see if it has the proper temperament and skills, as well as the required vaccinations. The evaluation is done by certified evaluators. The second part of the evaluation is to ascertain if the handler has the necessary social skills. Once this is complete, then both dog and handler begin training for the reading program.
After graduating from the required course, both dog and handler are able to participate in READ programs in their area schools and libraries.
From Low Self-Esteem to Achiever
Struggling readers have one thing in common — low self-esteem. The cause of this can vary, but the symptoms are the same. Students do not believe they will do well. They are afraid to answer for fear of ridicule. They are timid to try for fear of failing. The emotional barrier caused by lack of self-esteem becomes a self-fulfilling prophesy.
Over the years, teachers have utilized a variety of reading education strategies to help the struggling reader. Some of these strategies recognized the need to build self-esteem. The significance of reading therapy dogs is that the teacher need not take extra training, there is no need for special equipment and the program is free to schools and libraries. (As a non-profit organization, READ, and its affiliated programs, relies on donor contributions.)
The positive effects of participating in a reading to dogs program filters down through the students entire school experience. Positive self-esteem allows students to try, to think outside the box, to be willing to make mistakes without fear. With today's demand for students to achieve, READ programs are a positive step forward.
References
ABC News: Claiborne, R., Brundige, W. Study: Reading to Dogs Helps Children Learn to Read
Therapy Animals: R.E.A.D. Mission
Image: Reading to Dog by Kari Hawkins, USAG Redstone under Public domain on Wikimedia Commons
Boatman, K., WDAM, Can a Dog Help Your Child Read?
Lenihan, D., et al, Tufts University, Benefits of Reading Assistance Dogs
Tails of Joy: Introducing Reading Education Assistance Dogs, pdf doc published by Therapy Animals.