Kids Create Art From Recycled Materials in This Eco-Friendly Project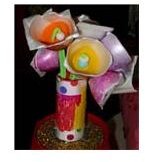 It is so important that young children are made aware of the state that our environment is currently in. Not to the same degree that adults are aware of course, but they should be told of the importance of conservation.
A great way to get the kids in your classroom involved in reusing recyclables is to have them collect such materials from home.
Collect the Materials
Send a letter home to parents explaining that you are interested in getting the students involved in art projects using materials that they can find at home.
Some materials that parents and children could look for:
Soup cans
Toilet paper rolls
Paper towel rolls
Coffee cans
Egg cartons
Water Bottles
Pieces of wood
Anything that the children believe could be put to use would be great to bring in to school (as long as it is safe!)
If you have an art area in your classroom, it would be a great idea to use one shelf solely for recycled materials so that the children have somewhere to put things when they bring them in, and so the materials are always available.
Get Creative!
Once the children have brought in a sufficient amount of materials, you can start to let them work and come up with things that they can design. You can offer a few ideas, but most children are rather imaginative and come up with great ideas on their own!
It is also fun to make a project as a class with the materials. An easy, yet fun project is making bird houses from shoe boxes. The kids will love decorating it in their own unique ways!
Not sure how to get started? Good Earth Art: Environmental Art for Kid__s by Maryann Kohl and EcoArt by Laurie Carlson are both wonderful books that are full of hundreds of great projects.
Make sure that you explain to your students that they are reusing materials, an environmentally friendly way to do art.
Have fun and get creative with these projects!