Abstract Art Lesson Plan for K-12 Students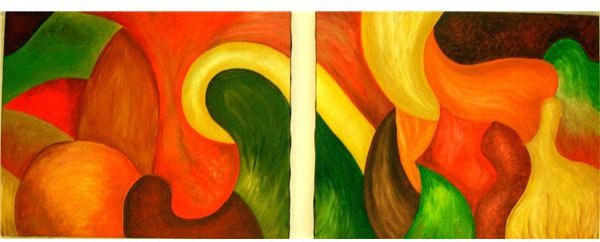 The Fun of Abstract Art
Abstract art is a great way to get your students involved in art without worries of the end result. Since abstract art doesn't always have to "look like" something, the stress level is less than with other art projects. There's no right or wrong way to create abstract art, which is very freeing to those who may not feel confident in their artistic skills. The truth is, art is for everyone.
Abstract Art Project
Abstract art is for kids of all ages. No matter what grade you teach, you can be sure your students will enjoy this project, which is one of my favorite abstract art lessons.
First, decide whether you would like to use canvases or heavy paper. Canvases are nice, but they're a lot more expensive than heavy weight paper. Give each child a piece of paper or a canvas, a compass, and a ruler.
The students will use their compass and ruler to create the shapes that will be painted. Encourage each child to be creative when planning the design.
Use the ruler and a pencil to draw straight lines over the paper, connecting them to form triangles, squares and rectangles that overlap and cover the entire paper. If curved shapes are desired, use a compass to create circles, half moon shapes, or crescents.
After the design is created, use tempera paints to block in the patterns so that no shape has the same color as the area next to it. Students can choose their own color scheme. Each individual block of color can be either one color or even a blend of more than one. Shading can also be used, by painting the outside edges of a particular shape a darker shade and lightening the color by adding white as you get closer to the center of the shape. The complexity of the design will depend upon the age and ability level of the students.
Allow the designs to dry and spray with a protective clear coat of urethane or other sealer if desired.
For grades K-3, simply using the ruler to make straight edged designs and then blocking them in with color is adequate. Grades 4-6 may wish to add more curved shapes using a compass. Older students may add shading and more advanced color mixing options to their paintings. Another twist for older students could be to use two panels of paper or canvas and create the design so that it fits together regardless of the position of the two individual paintings. This takes a little bit of work, but it's a great project for high school art students.
Below is an abstract design painting that I painted myself. In this painting, two different panels of canvas were used, and the design was created so that it fits together on either side to make one big painting.
Click on the painting for a larger view.