Creating Thank You Cards Using Past Projects: Middle School Art Lesson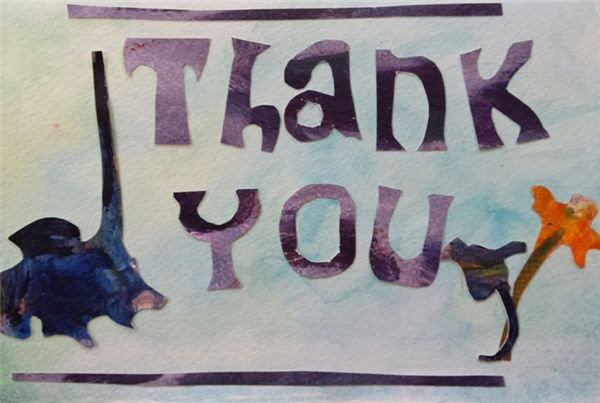 Objective
Students will use recycled items to create unique collages to be given as cards.
Materials
Old student paintings/ drawings (watercolor, tempera, acrylic, marker, or any medium that doesn't rub off when touched)
Scissors
Glue or matte medium
Large paper
Watercolors and brushes (optional)
Markers
Lesson Procedure
Preparation note: If desired, teacher can students give a few minutes at the start of the activity to briefly paint a watercolor wash on their papers to serve as a background color on their cards. The papers can dry as students complete step one of the lesson.
Step One: Teacher will explain to students that they will be recycling old paintings to create original art pieces that will serve as appreciation cards for those who have helped them throughout the school year. With teacher guidance, students will go through old collected artwork and select pieces that can be recycled into a new piece.
Teacher tip: if students have trouble parting with their work, teacher may want to allow the class to "donate" pieces to a general pile for other students to use. Teacher may also want to encourage students to photograph their pieces, so they can be used in future digital art projects if desired.
Once students have identified pieces they would like to use, they can begin cutting out shapes or cropping out sections of the paintings they would like to incorporate into their cards.
Step Two: Students will begin designing their cards by arranging the cutouts into desired compositions, deciding on placement of the items before using glue (or matte medium for advanced students) to affix them to the cards. (Note: follow all safety precautions if using matte medium).
Step Three: Teacher will give students time to compose messages they would like to include in their cards on separate paper. When cards are dry and students are ready, they may add any finishing touches to their cards and write their intended messages inside using markers.
Assessment
No assessment needed as long as students participate.
Extension
Teacher can give students more time in order to make several cards and encourage students to thank school personnel they might not have remembered such as office staff, custodians, cafeteria personnel and volunteers who contribute to the success of the school.