Created a Mixed Media Collage of a Summer Scene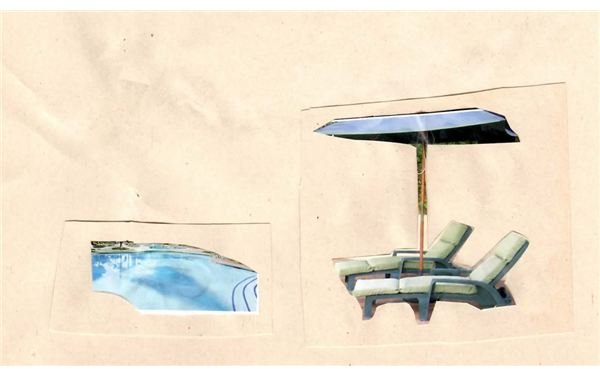 Lesson Objective: Students will create a summer-themed picture using hand-created cutouts on painted paper by focusing on shapes and colors
Materials: Art boards, magazines, masking or painter's tape, watercolor paper, bright tissue paper, watercolor paints, brushes, water, scissors, oil pastels, chalk pastels, paper bags (optional), glue (or matte medium for older students), reference photo (optional)
Lesson Procedure:
Step One: Teacher will ask students to brainstorm ideas for popular summer scenes. After listing a few ideas on the board, teacher will give students time to browse through magazines and cut out items they think represent summer.
Step Two: Students will arrange items they cut out into a "summer scene," placing items into a composition they like. Teacher can remind students that they are merely planning a picture, and do not have to worry about being faithful to size, color, value, or other details they may be concerned about before creating their pieces.
Step Three: Students will decide on a basic color scheme (3-5 colors) for their pieces. After taping a piece of watercolor paper to an art board, students will prep their papers by brushing them with a watercolor background. Teacher should encourage students to stick to 1-2 colors for the background, and to work quickly to cover the entire paper in order to avoid heavy lines.
Step Four: Teacher will demonstrate to students how to identify basic shapes in their compositions. Students will cut the basic shapes of their items out of either watercolor paper or paper bags, adjusting for size to fit their compositions (making foreground items larger, background items smaller). Students will color their shapes with oil pastel to fit the color schemes they have chosen. Students may also wish to use bright or patterned tissue paper glued onto their cutouts to create a little more visual interest.
Step Five: Students will begin creating their compositions by gluing shapes onto the paper, working from the background to the foreground. In order to make sure the shapes are glued completely flat, students may want to place books over their pictures for 10-15 minute sets of time between glue sessions. Older students may want to use matte medium instead of glue for a sturdier piece (students using matte medium should wear gloves and have proper ventilation!)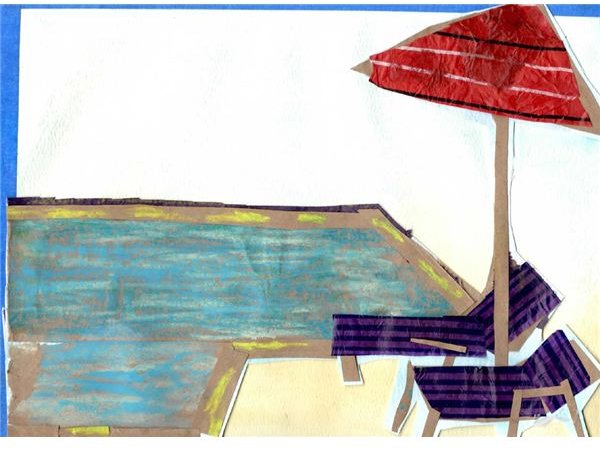 Step Six: After students have finished gluing on their pieces, they can use chalk pastel to soften or finish edges and blend or highlight any areas of the picture that need it.
IMAGE 3
Assessment: Ask students to display and share their summer scenes, and identify the basic shapes and color schemes they see in each other's works.
If possible, get students to frame their works for display. Encourage students to share their works by displaying them at home or donating them to a retirement or children's center to brighten someone else's day!
References
All iimages by Nicole Hilsabeck