An Archetype Webquest For Your Middle School Students: Online Research Project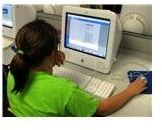 Just What is an Archetype?
The idea of archetypes is a lot simpler than the word would imply, especially for middle school students, but your archetypes webquest
activity needs to begin with a discussion of what the term means.
The notion of the archetype started with Carl Jung, a Swiss psychiatrist who was doing his own pioneer work in the field at about the same time as Sigmund Freud. Jung suggested that all people have the same inward psychological desires and tendencies, and these take certain forms in the way we describe reality, and in the way we tell stories.
And so there are several different forms that archetypes take. There are archetypal events, such as death, marriage, leaving home, and initiation into a group. There are archetypal figures, such as the hero, the father, the wise old man and woman, the hero, the devil, and God.
One, or some, or many of these events and concepts appear in just about every story out there. With this in mind, let's move to the webquest project.
Phase One: Research
Your archetypes webquest activity will begin with a basic overview of what archetypes are, and an idea of the hero's journey.
A summary of Joseph Campbell's idea of the hero's journey can be found on TheWritersJourney.com
A very accessible summary of archetypal characters can be found at SVSoft.com.
A step-by-step look at the hero's journey can be found at MythicHero.com.
For a basic understanding of the archetype and an explanation of how they operate in the human mind and heart, check Essortment.com.
A detailed definition of a literary archetype would also be very useful for students.
Phase Two: Moving from Research to Product
The next step in your archetypes webquest will depend, in large part, on the type of product you want your students to generate as a part of this unit. There are two free applications that you can use to build an interactive project with your students.
1. Archetypal Scrapblog. The Scrapblog website lets you put together interactive scrapbooks. You can post photographs and other pictures and blend them with text to tell a story. What you want your students to do is write a story that fits the definition of the hero's journey, but instead of just turning in another typed or written paper, have them tell their stories using Scrapblog. You can give them time in class to work on their stories and put on costumes to take their pictures to post, or you can have them use pictures they find on the Internet – bear in mind, though, that many school districts limit image availability on their servers, because of bandwidth and content concerns.
2. Audacity. Back in ancient times, all stories were told orally. Audacity is a free download that lets you edit sound and overlay several different tracks so you have several sounds going at one time. Your students can take the time to write a story that fits the archetypal male, and weave in different sound effects in the background.