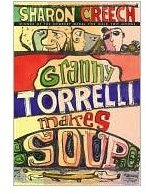 Newbery award winning author Sharon Creech has written another heartwarming book for middle school students, Granny Torrelli Makes Soup. The main character, Rosie, narrates the realistic story of a girl confused about her changing feelings for her best friend.
Rosie, a twelve-year-old girl, and Bailey, a twelve-year-old boy, have been friends and neighbors since birth. Even when it was discovered that Bailey was vision impaired, their friendship remained strong. As years went on, Rosie actually did too much for Bailey because of her deep connection to him. This caused problems when Bailey wanted to do things for himself. When Rosie surprised him by learning Braille, Bailey becomes angry with Rosie. Luckily, Granny comes over to make homemade zuppa (soup)! With humor, insight and cooking together, Granny gets Rosie to talk about her troubles with Bailey. Then when Bailey joins Rosie and Granny to make a pasta dish, Granny manages to weave her past relationship stories into the conversation. She also picks just the right times to excuse herself from the room to allow Bailey and Rosie time to talk.
Say it in Italian!
Granny, who came over from Italy as a teenager, spices up her conversations with Italian words and phrases. It will be fun for your students to pick up a few Italian words.
Below are some Italian words used in the book. The list includes one page number where it is found and the meaning.
1. zuppa (ZOO-pah)- page 9- means "soup"
2. Ciao (Chow)- page 81- means "hi or goodbye"
3. un disastro- page 19-means "a disaster"
4. bene (BAY-nay)- page 36- means "well, good"
5. Tutto va bene (Too-toe-vah-BAY-nay) – page 39 means "all is well"
6. Eccola-page 15- means "there"
7. bambini-page 15- means "children"
8. molto- page 49- means "a lot of, very"
9. piccolino-page 80- means "tiny, little"
Discussion Questions
1. When Granny comes over to make soup, she looks at Rosie and asks, "You going to tell me what's making your eyes so inside-looking?" (Page 11) What does Granny mean?
2. Why did it seem easier for Rosie to talk to Granny about her problems?
3. How did making soup and pasta help the situation?
4. What effect does Bailey's blindness have on the relationship with Rosie?
5. Why was Bailey upset about Rosie learning Braille?
6. When Rosie realizes why Bailey is mad at her, what does she do?
7. When Granny and Rosie return from taking zuppa to Bailey, Rosie says, "Very, very good zuppa." What does she really mean?
8. How do you think the feelings between Bailey and Rosie have changed over the years?
9. Rosie describes her emotions as one minute being an ice queen, the next a fox and the next a tiger. Have you ever felt that your emotions seem to change from one extreme to another?
10. Do you think Rosie understands her feelings by the end of the book?
Lessons Learned
Rosie's parents worked hard and may not have had the time to notice Rosie's issues with Bailey. Sometimes grandparents can be more intuitive listeners because they have time and wisdom. The cooking was a means to keep Granny, Rosie and Bailey busy and yet still able to converse in a non-threatening way.
As a writing assignment, students should think back to a conversation or event with an older family member that has impacted them in some way. The assignment should include a description (kind, funny, stern, etc.) of the adult, the event and the lesson learned.
Conversation Circle
The school day is filled with so much activity but sometimes it is necessary to deviate from the schedule and have a non-threatening conversation with the students in your class. Put chairs in a circle including one for you. When everyone is seated, you may want to start with a topic. Sometimes, when we know more about each other, it helps to better understand the actions of others. We may find that we have things in common and become friends. Knowing people better helps us to find the right approach to use when there is a problem.
The Conversation Circle rules are:
1. One person talks at a time.
2. No put-downs.
If you don't have an immediate issue to discuss try something different Some Conversation Circle topics might be:
1. Name three famous people that you would like to have over for dinner.
2. What 3 things would you take to a desert island?
3. Talk about a time you have been embarrassed.
Granny Torrelli Makes Soup is a delightful book that helps the reader learn to value the wisdom of their elders and also to face changes in middle school friendships and in themselves.