Middle School Reading Comprehension Activities That Work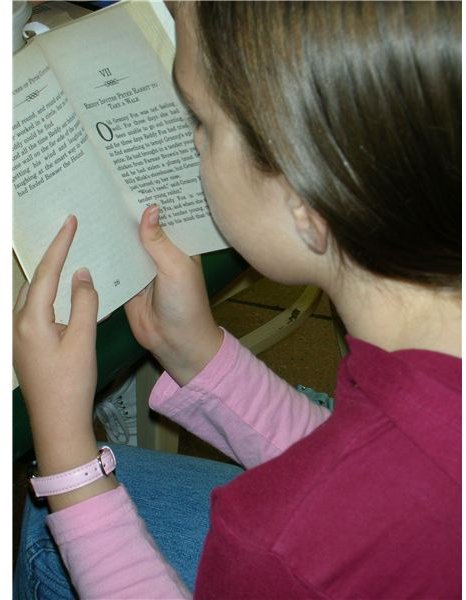 Checking on Comprehension
Have you noticed a student in your classroom with reading difficulties? Surprisingly, many students who struggle with reading comprehension can decode text quite fluently, masking their frustration for long periods of time. In the later elementary grades, these students may begin to stand out as learning materials and expectations become more complex, and their self-esteem has probably already suffered. This article will help guide you through assessing your students and giving examples of middle school reading comprehension activities. [caption id="attachment_130284" align="aligncenter" width="640"]
Stories captivate our imagination[/caption] Writing down exactly what students are saying as they read can give you some insight into where they are having trouble. Are they stumbling over the sounds as they attempt to read, having trouble with the meaning of specific words, or are they reading easily but missing the main idea and supporting details? Teachers or parents can read this guide for performing informal reading assessments. If comprehension is the problem, many approaches can help students get more out of what they read.
Middle School Reading Activities
Whether it's the most recent book in the Divergent series or a graphic novel turned into the latest movie blockbuster, middle schoolers tend to have very specific interests. Yes, it's important to read curriculum materials that may not be at the top of the motivation list, but it is also essential that they get to read materials they enjoy. Reading material should be available in a variety of formats and on a variety of subjects. Some students will devour romance and teen angst while others prefer personal profiles and scientific discoveries. They will be more likely to engage in compulsory topics if they are also given opportunities for independent learning and exploration in their topics of choice.
Teach Specific Comprehension Strategies
Students may not always realize that they haven't understood what they have read until it's too late. Some students will need to learn how to monitor their own understanding and will also need to be taught what to do if they falter. Comprehension strategies can be difficult to grasp and students will benefit from direct instruction about when and how to use the strategies, modeling and independent practice with a variety of passages. Good readers incorporate many behaviors into their reading:
Ask questions – before, during and after reading
Look for the main idea and important details
Make inferences and draw conclusions
Make connections to personal knowledge and experiences
Use context and re-read if necessary
Celebrate understanding
Visualize
Building Vocabulary
Pre-teaching vocabulary ahead of time can prepare students for independent reading. If they are already familiar with longer or more complex words, they will be able to read more fluently and with greater understanding. Such priming can also give students a big boost in confidence as they read. Word of the Day, Crosswords & Word Searches and Fill-in-the-Blanks are just a few fun activities to keep in mind.
Making Connections
Another important strategy for improving middle school reading comprehension is making connections between their personal lives and the material they read. Teachers who use hands-on lessons and real-world applications are often able to make learning more relevant and meaningful for their students. When kids understand how things affect them personally, their interest and understanding will increase. Opportunities for story-telling or journaling will also help to build the necessary connections. Teachers often focus on the basic comprehension questions (Who, What, When, Where, Why and How) but real life requires us to go beyond the simple facts. Using Bloom's Taxonomy allows students to provide more elaborate information, encouraging higher level thinking skills, and increasing understanding. When middle school reading comprehension activities incorporate ideas from Bloom's Taxonomy, students will go beyond answering W5H questions and begin to think about how their learning remains relevant outside of the classroom.
Graphic Organizers
One way to go deeper is to use graphic organizers. Most teachers understand their importance in the classroom. Excellent for reading fiction and non-fiction alike, graphic organizers are simply visual ways of looking at information. Character maps, Main Idea Charts, Cause & Effect Diagrams, and Venn Diagrams, for example, can be used to summarize novels, experiments and history facts a way that makes sense to students. Visual representations can also be used very effectively to plan writing, another task that can be difficult for struggling readers. Graphic organizer sites abound on the internet and the example in the reference section allows you to type information into the templates before printing.
Assistive Technology
Students who continue to have comprehension difficulties, even with intervention, may benefit greatly from audio books, animated books and specialized software that scans and reads texts. Being able to listen to the text allows students to set aside the frustrating mechanics of reading, and focus on the content as it is presented. While tweens and teens may cringe at the thought of having an adult read aloud to them, plugging in an iPod or jumping on the computer will be more socially acceptable and maybe even fun. Software like Kurzweil is available in many school boards and offers advanced features like highlighting key words, adding comprehension questions, and creating individualized assignments for classroom use.
References