Thanksgiving Essay & Bulletin Board for Middle School Language Arts Class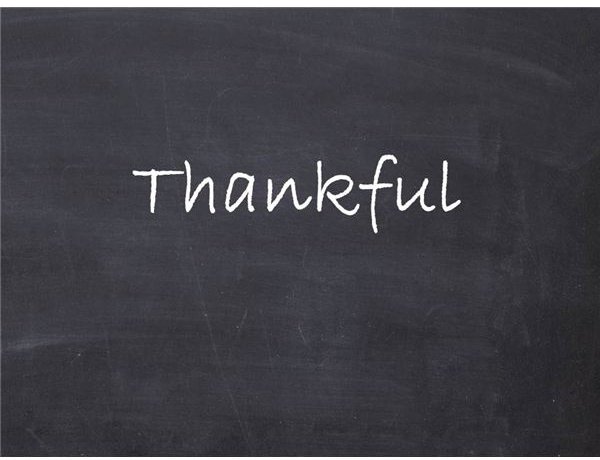 Thanksgiving Essay & Bulletin Board
This lesson can be started at the end of October to create a wonderful bulletin board that the whole class contributes to. Students will need to put some sincere thought into why they are thankful for the big and little things in life. Parents will enjoy reading their children's essays.
Materials Needed:
Construction paper
Markers
Writing paper
Goals: Students will learn how to discuss what they are thankful for in life, write an essay and create a class bulletin board.
Steps
Step 1 – Write the word "thankful" on the board. Get each student to write something big or small that they are thankful for on the chalkboard or dry erase board.
Step 2 – Tell students that they are going to write a three- or five-paragraph essay describing why they are thankful during this holiday season.
Step 3 -- Ask students to create a web or an outline for pre-writing for their essay. For a web, make a circle in the middle of the paper. Students should put "What I am Thankful for." Depending on the length of the essay, students can make three or five additional circles with spokes from the first circle. They key is that students make their essays personal and sincere.
Step 4 – Assign students to write the essay from the pre-writing activity. Many middle school students forget to write a conclusion. Make sure that students have a strong introduction, good detail in the body of the essay and a conclusion that summarizes the essay. This draft should be peer-edited using a rubric. The criteria for the rubric could be content, organization, writing conventions, etc.
Step 5 -- Write a final draft and turn in to be assessed using the same rubric.
Step 6 – After every student has contributed, show students how to categorize all of the ideas that were written. Create a bulletin board. Each student will make a turkey feather. On the turkey feather, the student will write his or her name and the most important reason why he or she is thankful in marker. Ask an artistic student to create the body of the turkey so that it truly is a class bulletin board.
This lesson will be meaningful and students will create a masterpiece for all to see. It is a fun and educational way to express the spirit of the holiday.