Language Cousins Activity: English and Norwegian Word List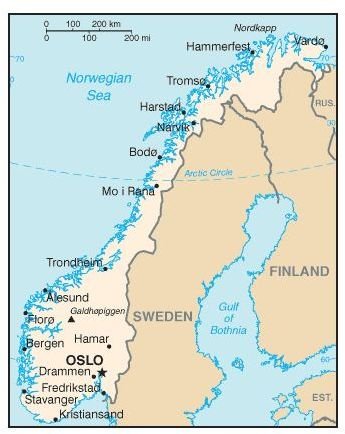 The Norwegian Language
The Norwegian language is a North Germanic language related to the other Germanic languages: Danish, Swedish, Icelandic, Faroese, German, Dutch, Frisian, English, Scots and Low Saxon. Norwegian is spoken by approximately 4.8 million people, mostly within the country of Norway. Language teachers can use a word list in the English classroom for teaching students about languages related to the English language. The following sections provide some basic vocabulary in Norwegian that allows teachers to teach about the similarities between the English and Norwegian languages.
Family Vocabulary
Begin by introducing the words for family relationships in Norwegian. Explain that Norwegian nouns express three grammatical genders via an indefinite article: en (masculine), ei (feminine) and et (neuter). The following list provides the vocabulary for relatives in en familie "a family" with the Norwegian word first followed by the English translation:
et barn – child
et barnebarn – grandchild
en bestefar – grandfather
en besteforelder – grandparent
ei bestemor – grandmother
en bror – brother
en brordatter – brother's daughter
en brorsønn – brother's son
ei datter – daughter
ei datterdatter – daughter's daughter
en dattersønn – daughter's son
en ektemann – husband
et enebarn – only child
en far – father
en farfar – paternal grandfather
ei farmor – maternal grandmother
en fetter – male cousin
en forelder – parent
en halvbror – half-brother
ei halvsøster – half-sister
en hustru – wife
ei kusine – female cousin
en mann – man, husband
ei mor – mother
en morfar – maternal grandfather
ei mormor – maternal grandmother
en nevø – nephew
en niese – niece
et oldebarn – great grandchild
en oldeforelder – great grandparent
en onkel – uncle
et pikebarn – female child
et stebarn – stepchild
en stebror – stepbrother
en stefar – stepfather
ei stemor – stepmother
en stesønn – stepson
en svigerdatter – daughter-in-law
en svigerfar – father-in-law
ei svigerdatter – daughter-in-law
ei svigerinne – sister-in-law
ei svigermor – mother-in-law
en svigersønn – son-in-law
en svoger – brother-in-law
en sønn – son
ei sønnedatter – son's daughter
en sønnesøn – son's son
ei søster – sister
en søstersønn – sister's son
et spebarn – infant, baby
en tante – aunt
Cardinal Numbers
Learning to count from zero to ten is an important step for learning. Next introduce the Norwegian word list for the first ten cardinal numbers in the language:
null – zero (0)
en, et – one (1)
to – two (2)
tre – three (3)
fire – four (4)
fem – five (5)
seks – six (6)
sju, syv – seven (7)
åtte – eight (8)
ni – nine (9)
ti – ten (10)
Days and Months
Finally, teach the vocabulary words for keeping track of the days of the week and the months of the year in Norwegian. The Norwegian words for the days of the week followed by the English translation are as follows:
søndag – Sunday
mandag – Monday
tirsdag – Tuesday
onsdag – Wednesday
torsdag – Thursday
fredag – Friday
lørdag – Saturday
The Norwegian words for the months of the year followed by the English translation are as follows:
januar – January
februar – February
mars, marts – March
april – April
mai – May
juni – June
juli – July
august – August
september – September
oktober – October
november – November
desember – December
Teaching Activity
Although erroneously identified as a language related to the Romance languages such as Latin and French due to the large number of borrowed words with Latinate origins, the English language is actually more closely related to other Germanic languages including the Norwegian language. Thus, English teachers can use a Norwegian word list to teach students about one of English's cousin, Norwegian. After introducing the vocabulary words, have the students identify which Norwegian words are similar or identical to the English translation either in spelling or pronunciation. Some examples include the following:
datter – daughter
sønn – son
søndag – Sunday
fredag – Friday
april – April
oktober – October
Or, for a more challenging activity, introduce the Norwegian words first and ask the students to try to guess the English translation. Either activity allows the English teacher to teach about the similarities between two related languages: English and Norwegian.
References