Wizard of Oz Webquest: Lesson for Elementary Students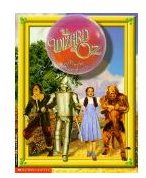 Begin the lesson with a story. Share one of the many books of The Wizard of Oz story. One that is appealing to younger children is The
**_
Wizard of Oz - adapted by Gail Herman.
In this lesson a webquest for the Wizard of Oz is used to find out about the "yellow brick road," how Dorothy and Toto landed in Munchkin Land, and how to navigate your way around Oz.
The Task
You are going on an adventure to find out some exciting information and fun facts about the Wizard of Oz.
We want to know:
If it would be possible to build a yellow brick road. Are all bricks yellow? What kind of bricks would be suitable?

What makes a tornado? What precautions should be taken in tornado conditions?

The information from the story to make a story map of the land of Oz. Where did the quest begin? Where did it end?

If you were lost how would you find your way home? Could you ask for directions? Look at a map? Use a cell phone? Make a list of things to do.

What are the main characters in the story, what do they look like, and what is special about each one?
The Process
1. Separate into small groups or partners.
2. Choose the parts of the task that you would like to research.
3. Use the books, magazines and computer to work your way through the quest.
4. Choose a way to record your findings. Use writing and pictures. You may like to use a tape recorder to tape your answers.
5. For the story map use a very large area of paper so that you can add all the characters and places that Dorothy finds along the way.
6. Choose a 'balloon' activity to make your reports more interesting.
Resources:
Evaluation
Did the students follow directions?
Did the students work well in their group or with a partner?
Did they research their answers fully?
Was their presentation acceptable?
Did they fully understand the task?
Did they present orally with appropriate voice projection and organization?
Was their written presentation organized, with correct spelling and grammar?
Did they show creativity with their presentations?
Provide each student with a self-evaluation; ask them to answer it truthfully:
Did I follow directions?
Did I co-operate with my partner (group)
Did I use the resources?
Did I complete my quest?
Did I present my findings to the class?
Back to Kansas (or Wherever)
Conclude your lesson with an Oz party. Make headbands and add each student's favorite character's picture to the front of each one. Discuss what food Dorothy and her friends may have eaten - as it was an imaginary place you could make ice cream sundaes with different kinds of toppings, serve candies in all shapes and forms, or cookies, e.g. animal crackers.
Learn the song Somewhere Over the Rainbow and sing it at the party. Look for a recording of the song by Judy Garland.
Make 'over the rainbow' pictures with paint on very shiny paper. Ask students to tell what their 'over the rainbow' place would be like.
This Webquest and the fun facts about the Wizard of Oz will provide a most enjoyable project for young children.