Background for Teachers
This is an introduction for third, fourth and fifth graders on the historic Woodland Indians of the Ohio and southern Great Lakes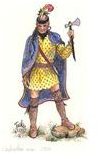 Region. Students will learn basic information on structures, village locations, names of some individuals, clothing, village life, and how all of this came about due to the fur trade.
Objective: To offer students a better understanding of the Woodland Indians of the Ohio and southern Great Lakes Region.
Native Woodland Indians – Background for Teachers
Woodland Indians made up nearly half of all Native American cultural groups. They ranged from Ontario, south to Georgia and, from the Atlantic, going west to the Mississippi River. The focus of this lesson is the Ohio Valley and southern Great Lakes region. One way for students to comprehend how Native Woodland Indians lived is by making a comparison to their own lives.
Geographical areas covered: Western Pennsylvania, Kentucky, Ohio, Indiana, Illinois, Wisconsin, and southern Michigan.
Woodland Nations: Miami, Shawnee, Piankeshaw, Potawatomi, Lenape, Illiniwek, Kickapoo, Wendot (Wyandot)
Structures and Features: Cattail-Mat Covered Wigwams; Bark Covered Cabins and Longhouses; Granaries; Mounds; Palisades; Storage Pits; Log Cabins
Villages:
Potawatomi: St. Joseph River Valley, northern Indiana, and Michigan, and areas north of the Wabash in Indiana.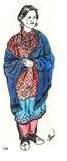 Piankeshaw: Illinois, Indiana (Southwest)
Miami: Wisconsin, Southern Michigan, All of Indiana and Ohio to the Scioto River
Shawnee: Ohio Valley, Indiana, Kentucky, Western Pennsylvania, West Virginia
Lenape: Western Pennsylvania, Ohio, Indiana
Illiniwek: Illinois, Wisconsin
Names of Individuals:
Miami: Little Turtle — War Captain and Diplomat; Tacumwah – Female Chief; Pechewa or Chief Richardville – Civil Chief of Crane Band
Shawnee: Blue Jacket – War Chief; Black Hoof – Village Chief; Tecumseh – rebel leader
Potawatomi: Massaw: Female Leader in Wabash Valley; Kakima Burnett – Female leader in Michigan related to War leader Chebanse; Village Chief Topenbee
Clothing:
In the eighteenth Century, women and girls wore red or dark blue wool trade cloth wrap around skirt; wool leggings with silk ribbon trim; center seam leather moccasins; dropped sleeve trade cloth shirt; blanket decorated with silk ribbons; hair tied back with silver hair binders or wrapped in ribbon; trade silver brooches and glass trade bead necklaces
Men and boys wore red or dark blue wool trade cloth leggings, breechlout trimmed in silk ribbons; center seam leather moccasins with quillwork embroidery; dropped sleeve trade cloth Indian print shirts; blanket or military style wool coat; heads shaved except for scalp lock or multiple hair fops; silver gorgets, arm bands, brooches and glass trade bead necklaces
Culture and Village Life: along waterways – houses sometimes spread out for miles, while other times are the inside of a palisade. All used large gardens of corn (maize) (Miami famous for white corn) Flint or Dent Corn; Fire pits in side of houses kept families warm.
Wigwams used mostly in the winter and for temporary camps such as Maple sugar or hunting camps. Bark houses more permanent structures.
Villages controlled for them most part by a chief and his family through inheritance. War chiefs were elected to power and held that position if they were good leaders.
Granaries were used to store corn and dried meats and vegetables above ground
Storage Pits were used below ground.
Women were in charge of food gathering and food production. The women related to head chiefs designed fields and supervised plantings, related feasts and harvests
Men were obligated to help clear land, gather heavy building materials, make or trade for necessary supplies and hunting equipment and protect their families.
Woodland Indian Tribes: Classroom Instructiion and Activities.
Read the facts below that follow this introduction along with your students. Ask them to then compare each of the traits in the world of the Woodland Indians with something from their own life.
What kind of houses do you live in? Where do you live? Do you do your homework and play with your friends doing things like playing ball or watching video games?
Think about the things in your life and compare them with traits or characteristics of the Woodland Indians of the Ohio Region.
Early spring meant setting up camp to make maple sugar. Everyone helped.
Women supervised the men in clearing land for the first plantings of corn.
Men began to do spring hunting while women gathered first wild plants of spring.
Families decided where to build a new house. Men cut trees for building materials
Preparing for more plantings of beans, squash and pumpkins and celebrate summer with a feast and green corn dance.
Prepare cattail mats, and interior mats, clothes for next winter
Harvest crops in fall,
Fall bison hunts by some Shawnee, Miami, Potawatomi and Illiniwek
Women harvest plants for making cordage such as dogbane, nettle and milkweed
Hide tanning was still done in the first half of the 18th century for making leather clothes, moccasins, pouches and robes
Fur traders arrived and brought wool and cotton trade cloth, brass and iron kettles, silver brooches, glass trade beads, and iron tools such as hatchets, tomahawks, knives, and garden hoes
Woodland Indian children learned from their parents, aunts, uncles and relatives about their traditions and how to live in their villages
Suggested Activities
Get a list of historical reenactments and offer one as a class field trip or in the summer suggest a family outing to see live action and real replica woodland villages and activities. Subscribe to get the latest listings of events around the country, articles on workshops, pow wows, books, and a list of traders that supply goods of the various historic periods
Teachers should display books, reproduction artifacts or tools related to Native Woodland Indians. Find a program that can be brought into the classroom with real hands-on living history demonstrations in hide tanning, fur trade, role playing, and models of wigwams, pottery, plant fiber textiles, and clothing from the fur trade era such as Piankeshaw Trails Educational Programs.
Shawnee Worksheet Discussion Questions:
Questions to Accompany Shawnee Text:
1. When did the Shawnee come back to the Ohio Valley ?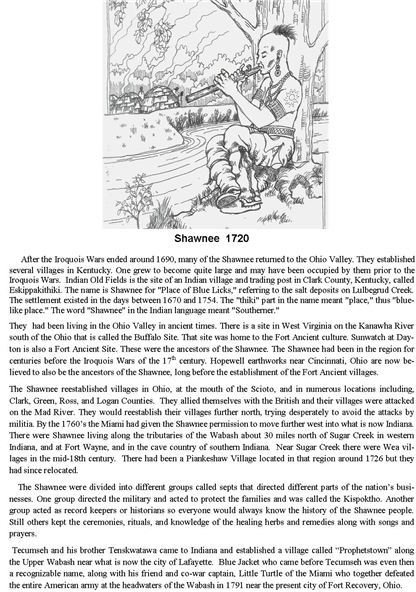 2. What was the name of an important village in Kentucky?
3. Who was a famous leader of the Shawnee who established a village at Prophetstown?
4. What does the word "Shawnee" mean?
5. Name two more Shawnee leaders.
6. From looking at the picture, name what kind of houses the Shawnee lived in during the winter.
7. Who were the ancestors of the Shawnee?
8. Name two other locations of Shawnee villages north of the Ohio River.
More information on the Woodland Tribes and Other Native Americans
Suggested sites:
Sunwatch Museum, Dayton, Ohio
Angel Mounds, Evansville, Indiana
Cahokia, Collinsville, Illinois
Shawnee Lookout Park, Cincinnati, Ohio
Driving Tour of Logan County, Ohio Historical Markers – Many Indian sites
Chicago Field Museum of Natural History
Cranbrook Institute, Bloomfield Hills Michigan
Miami County Museum, Peru, Indiana
Meadowcroft Rockshelter near Pittsburgh, Pennsylvania 16,000 years of Native history
Books:
Ansary, Mir Tamin Eastern Woodlands Indians Heinemann Library 2001 (Paperback, 32 pages, Ages 4-8)
Bruchac, Joseph , Children of the Longhouse, Puffin 1998 (160, pages, Ages 9-12)
Dolan, Terrance, The Shawnee Indians (Junior Library of American Indians), Chelsea House Publications, 1996, ( Paperback, 80 pages, Ages 9-12)
Hartman, Sheryl, Natives Along the Wabash & Ohio, Teacher Resource Book Piankeshaw Trails Publications 2010 Critical Thinking Activities, Background, Reproducibles ,188 pages
Hartman, Sheryl, Indian Clothing of the Great Lakes, 1740-1840, Eagle View Publishing 1987 (120 pages B&W Illustrations, paperback, all ages)
Koestler-Grack, Rachel A., Tecumseh, 1768-1813, Blue Earth Books: American Indian Biographies 2003 (32 pages, Ages 9-12)
Mann, Charles, Before Columbus:The Americas of 149, Atheneum 2009, 128 pages, Ages 9-12
Ross, Ann, Culture Collide: Native American and Europeans 1492-1700 (Crossroads America) National Geographic Children's Books, 2004, (Hardcover, 40 pages, young adult)
Speare, Elizabeth George, The Sign of the Beaver, Houghton Mifflin Books for Children; reprint edition (April 27, 1983 ) 144 pages, Young adult
Wilbur, C. Keith Woodland Indians (Illustrated Living History Series) Globe Pequot; 1995