Word Bank Examples for Elementary Writing Prompts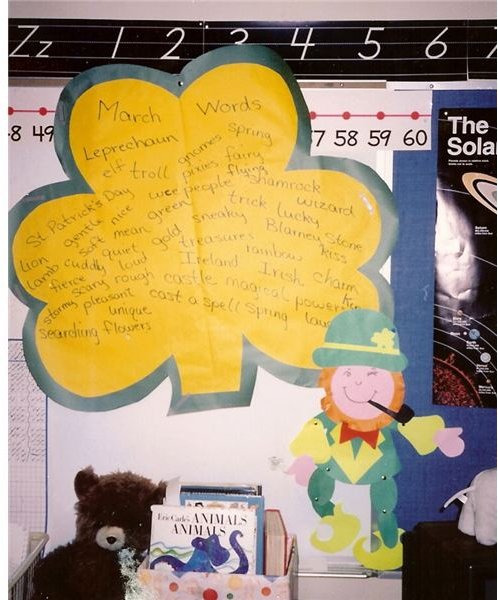 The Monthly Word Bank
Student-generated stories, journal entries - even daily homework assignments - often center around themes or words related to current events. These current events can be dictated by the particular month…especially if it is a month containing a significant holiday. Incorporate the use of a monthly word bank as one of your methods for teaching spelling or vocabulary while providing elementary writing prompts ideas. Give your students a head-start to great writing by working together throughout the year to generate a list of month-related words or phrases. In doing so, you will surround your students in a print-rich environment.
Brainstorming
At the beginning of each month, take time out of your Language Arts or Daily Writing schedule to generate a list of possible vocabulary words, phrases and/or topics that might be related to the current month. Continue to solicit writing prompts ideas until the class has run out of additions. These will be the basis of your elementary writing prompts ideas.
For example, a list for the month of February might include spelling and vocabulary words like:
Heart, love, valentine, Valentine's Day,
Letter, decorations, party, box,
Red, pink, white, doily, cupid
Arrow, Abraham Lincoln, Groundhog Day, black history,
George Washington, Leap Year, 100th day of school,
Flag, winter, shadow, ice skating,
Snow, celebration, friendship, mailbox,
Chocolate, cards, hot cocoa.
For added effect, list the words on a piece of butcher paper or large chart paper that has been cut into a shape that corresponds with the month. Using our February example from above, you may wish to list the generated words on a large pink heart. To help students see the words more clearly, write them in two alternating colors. This is especially helpful if the colors are, once again, related to the month. Orange and black would serve as appropriate color combinations for the month of October, while red and green are the obvious choices for December.
If you are on a traditional school-year schedule, you may wish to make one monthly Word Bank for the summer months. The spelling words could be written on a sheet of butcher paper shaped like the sun.
Keep your list of words on display for the entire year. Students may then refer back to them when using conventional spelling in their daily writing. You may even wish to require that students add the list of words to their personal dictionaries - although, doing so will require a great amount of time.
When considering different ways for providing elementary writing prompts ideas, a monthly word bank will surely increase the creativity of students' writing and the accuracy of their spelling in your classroom this year!
Sample Word Bank