The world is becoming increasingly more technological, and reading online is simply here to stay. The "printed word" is becoming a misnomer as our reading material comes in many forms, most of which do not involve ink or paper. Hyperlinks move us between authors and sources in a flash, giving us control over how much of a particular piece we read.
Some reading experts believe this has lead to a decline in reading comprehension skills while others propose it has created a new type of reading that requires a new set of skills. (Literacy Debate – Online, R U Really Reading? – Series – NYTimes.com) No matter what your position, reading on the Internet is here to stay and needs to be incorporated into school curricula.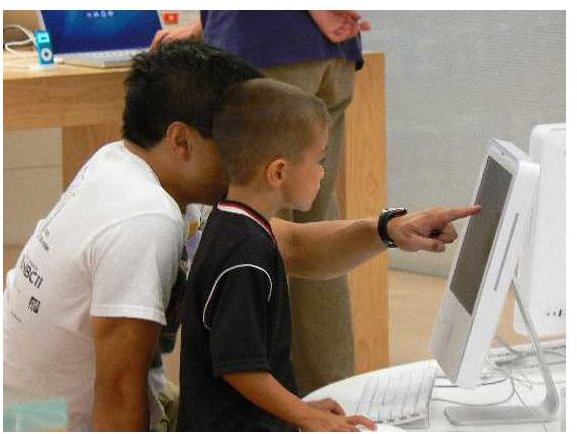 The lesson plan below is intended for fourth to sixth graders. It is geared towards teaching kids about using the Internet and should improve online reading skills while expanding your students' vocabulary. Students will need access to the internet.
Teaching Kids About Using the Internet: Online Reading
Key Facts, Concepts and Vocabulary Words: dime novel, Web site, link, biography.
Performance Objectives:
1. To improve reading and Internet skills. (The Library of Congress Web Site)
2. To learn how to locate specific data on a page.
3. Improve and expand vocabulary.
Process
Begin by handing out copies of the directions and explaining the lesson.
Today we will be reading stories on the Web. They will contain some new vocabulary words. Also, the directions to your assignment contain terms that you might not know. Let's begin by going over these new words and terms.
1. Does anyone know what a dime novel is? (Novel set in the West, usually with heroes and villains. Cost 10 cents.)
2. What does bison mean? (Bison means buffalo.)
3. Can anyone define the phrase Web Site? (An Internet "page" set up by a person or organization, government office, etc.)
4. What's a link on a Web Site? (Click-able text or picture (icon) that takes you somewhere else on the site or to another site.)
5. What's a biography? (Story of someone's life.)
Review the directions.
Directions
1. Start at: https://www.americaslibrary.gov/aa/index.php
2. Click on the Meet Amazing Americans Icon
3. Click on Athletes and Entertainers and then Buffalo Bill Cody
4. Read his biography and follow the link to Buffalo Bill's Wild West Show or Buffalo Hunting with the Duke.
5. Read the story. Make sure to look for any of the new vocabulary words.
6. After you've done the above click on the Meet Amazing Americans Link again.
7. Choose another category and person. Print out that person's biography page.
Use the back of your printout for all writing and complete the following:
1. Look at the page you printed and find the person's date of birth and death. Find the time-line. List two major events that happened during this person's lifetime.
2. Read the page and circle any words you don't know.
3. Without using a dictionary, write a definition for each word. You can talk to your class mates if you can't come up with a meaning on your own.
4. Make sure to write your name and the date on the front of the page before you hand it in.
References
Image Credit
https://commons.wikimedia.org/wiki/File:Click_Here._No,_Here.jpg