Begin with a Blank Book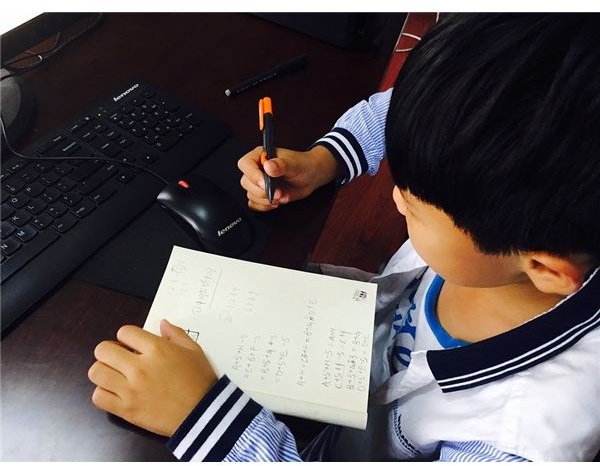 Surprise each of your students with a very special notebook treasure (if funds are provided). If not, ask parents to purchase a spiral notebook (or notebook type of your choice) for the child to bring to class.
When planning your journal experience, keep your students' ability level in mind. Another decision may be how often you plan to write. Some teachers prefer to write journal entries together as a class. Others may want free journal writing to be once a day, weekly, or several times per week in short increments of time. You know best what will fit into your planned curriculum schedule and what your kids have interest and ability to do with this project.
Have a special place or box to store all the journals when not in use.
The Language Arts Connection
Journal writing is a powerful addition to language arts activities. They give kids a special place to develop, practice, and experiment with their writing style.
Use this teaching tool in a variety of exciting ways to help students develop fluency in their writing. Keep the journal as a diary, writing about events during the day or a place to jot down personal feelings or thoughts. Or your can use journals to encourage writing about classroom themes; either teacher selected topics or writer's choice. No matter which way, journals help students to keep thoughts about what they have learned, jot down poems, or even write letters. Illustrations may be included to make the entries fun. The opportunities for kids to make use of journals are endless.
Another fun idea is to journal after reading a book in class. Ask the kids to imagine themselves as a specific story character and write from that perspective. How would they handle situations? Or, have them rewrite the story – add, delete, or transform to create a new version of the old story.
As student writers, the kids need to understand that writing can always be improved. Young children have the notion that once something is written, its done! Talk about editing and how pieces of written word need to be reread and sometimes edited for improvement. Periodically, go back to previous entries and ask your students to read their entry and try to polish it. Have the kids compare the two versions. Can they detect an improvement? Think about pairing students in groups and read the entries together. Peer evaluation can help individuals find areas that need revising.
Use Journals in Your Science Center
Journaling provides kids with an excellent means of recording predictions and outcomes in the scientific process. After presenting an experiment, have your students write an entry in their journal about what they thought would happen, what did happen, and even draw illustrations of the experiment.
The Social Studies Connection
social studies theme provides many arenas to get students thinking and writing. Diversity in people, cultures, locales, and historic events can be stepping stones for writing exercises in comparing and contrasting.
Maybe step back in time and ask the kids to choose a particular person, place, or event in history and write about it. Have them imagine themselves as part of this time. What happened today? What would they do to make the day better?
Another idea is to make use of newspapers, magazines, and photos to promote writing. Not only does it give kids ideas what to write about, but it also gets them into the habit of reading periodicals.
TV Connections Make Journaling Fun
Let's face it – kids watch television shows. Make a connection between television shows and adding entries to the child's journal. Have the student write a summation of their favorite TV show or ask them to creatively write an idea for a new cartoon, sitcom, or action program.
All in all, journal writing is a great teaching tool to encourage writing in the classroom. The book helps to keep a culmination of the child's work and a visual evaluation. There are so many topics to incorporate in your creative writing sessions – the list is endless and can keep the momentum going throughout the entire school year.