Irregular Verbs Lesson Plan Ideas for Grade 3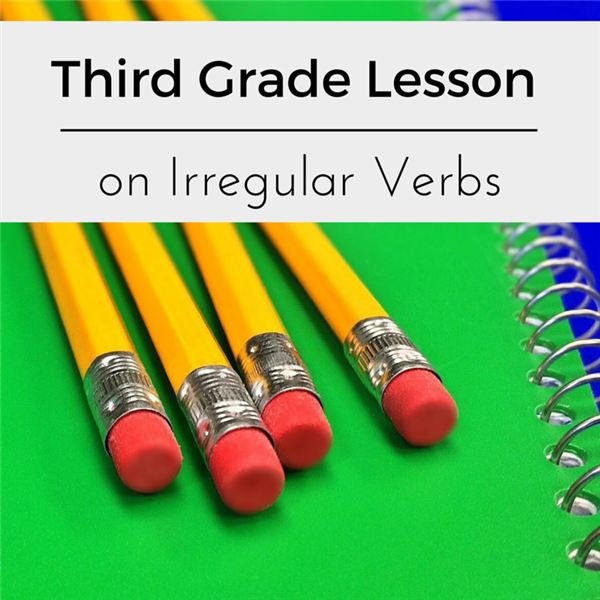 Objective
Form and use regular and irregular verbs. LA3-L-1-D
Materials and Preparation
Choose a few passages from a book in your classroom that have a good variety of regular and irregular verbs.
File cards with a present tense verb written on it, a different word for each student. Links for verb lists are referenced below.
Dictionaries
Writing paper and pencils
Procedure
Review the meaning of the word "verb." Then slowly read a prepared passage from the book you have chosen. Play a game with your students asking them to snap or clap when they hear a verb as you read the passage again. Write the words they have identified. When the words have been written, ask a student to circle the regular verbs. They end with "ed." Then discuss the irregular verbs and point out that each one is different from another. We are familiar with these words when we are speaking and most likely do not realize that the words do not follow the normal pattern.
Activity
Pass out the prepared file cards, writing paper and pencils. Students will then use the dictionaries to look up the present tense of the word on the card and find the past and past participle of the word. Write the three forms of the word at the top of the writing paper. Then compose a sentence for each of the three words.
Share the work with a partner, group or entire class.
Save the file cards to do the same activity for assessment or review.
Homework
On a piece of writing paper, write the name and author of a book you are currently reading. Then find five irregular verbs in the book. Write down the words and the number of the page on which the word appears. Next to each word, write the present tense of the word. For example:
Book: The Little Island by Margaret Wise Brown
1. blew page 1 blow
2. swam page 3 swim
References