Supporting Literacy with Dramatic Play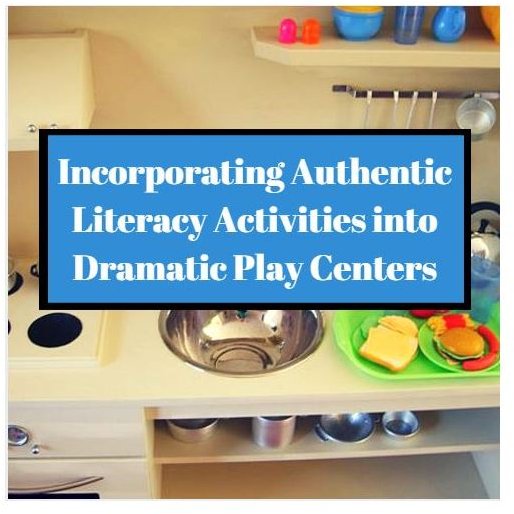 Incorporating early literacy opportunities into the dramatic play center is fun and easy. Theme-related picture books, authentic writing opportunities, environmental print and sound (phoneme) activities can all be a natural part of the dramatic play center. Following are some examples.
Grocery Store
Prepare a pre-printed grocery list
Label the food bins
Provide real grocery store flyers
Add blank paper for children to write their own grocery lists
Recommended books: Maisy Goes Shopping by Lucy Cousins, A Trip to the Grocery Store by Josie Koegh and At the Grocery Store by Carol Greene.
Restaurant
Create a wait list for the children to write their names on when they arrive
Provide menus (create your own or real ones)
Food order pads
"credit cards" with the children's names for paying for their orders
Environment print such as a restaurant name sign and an open/close sign
Recommended books: Pizza at Sally's by Monica Wellington, Working at a Restaurant by Katie Marsico, I Have a Restaurant by Ryan Afromsky.
Bakery
Bakery name sign
Open/closed sign
Recipe lists
Ordering pads
Aprons and hats with labels (baker, cashier, etc.)
Labels for cupcakes, donuts, pastries, etc.
Add a matching game with rhyming words such as cake/bake, cook/book
Recommended books: Mr. Cookie Baker by Monica Wellington, The Baker's Dozen: A Counting Book by Dan Andreasen, Out and about at the Bakery by Jennifer A. Ericsson
Doctors' Office
Sign-in sheet
Posters of body parts, etc.
Child medical history forms to "fill out"
Magazines for the waiting room
Prescription pads
Name bracelets
Get well cards
Doctor's note pad
Eye chart
Appointment book
Waiting room and office signs
Recommended books: My Friend the Doctor by Joanna Cole, The Berenstain Bears Go to the Doctor by Stan and Jan Berenstain, A Day in the Life of a Doctor by Heather Adamson.
Post Office
This is great area for authentic writing opportunities. Children can have:
An assortment of stationary along with letter stamps or letter stickers to aid in letter recognition
Envelopes and a mailbox for deliveries to friends
A class address book and word cards with pictures
Recommended books: The Post Office Book: Mail and How It Moves by Gail Gibbons, A Trip to the Post Office by Josie Keogh, To the Post Office with Mama by Sue Farrell.
Pet Shop
One way to spark the children's interest in a reading and writing activity is to tap into what is important to them. Making a class book about their own pets at home is a great way to make it meaningful and applicable to their daily lives. Label the types of animals and have the children write each one a nametag. Provide information sheets on each pet and a price tag along with real or homemade containers of food with labels. Adding a cash register and pretend money helps to bring in some mathematical concepts as well.
Recommended books: What Pet Should I Get? By Dr. Seuss, The Perfect Pet by Margie Palatini, Pet Show by Ezra Jack Keats.
Language Opportunities
Asking questions, introducing new vocabulary and participating in natural think-alouds all help to advance the language skills of the children. Questions and statements such as, "I wonder what the Dalmatian likes to eat?" and "That puppy is miniature," may trigger a child to look it up on the information sheets provided and also gives them an opportunity to hear new vocabulary in a meaningful way.
Encouraging dialogue with comments such as, "I think my tummy is hurting, Doctor, what should I do?" and facilitating discussion between the children such as, "Bobby thinks he would like to have mushrooms on his pizza, can you ask him?" are effective ways to prompt and demonstrate appropriate use of language. Modeling joint interactions helps to teach the children the importance of language as well: what they say has meaning and can illicit responses from others.
Remember to find ways to allow for real-world application of writing, theme related storybooks, environmental print, and new vocabulary by intentionally planning and setting up the environment for maximum success.
References
Davidson, J. (1996). Emergent Literacy and Dramatic Play in Early Education. Albany, NY: Delmar Publishers.
Image source: Kitchen2 - flickr.com/linny_t