American Food Culture Lesson Plan: Fast Food, Traditional Cooking & Family Recipes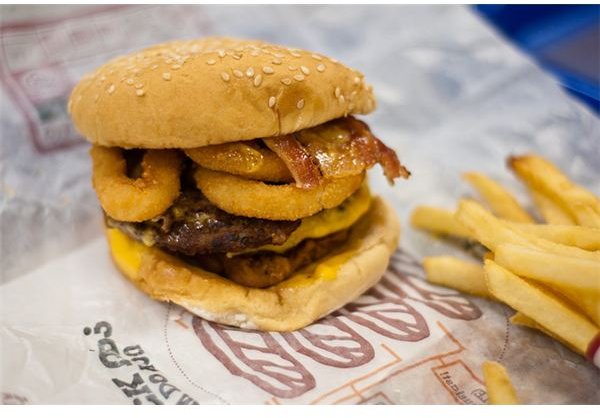 Fast, Cheap and Convenient
When teaching a lesson on American food culture, it is imperative to discuss Americans' obsession with fast food. John Ikerd, Professor Emeritus of Agricultural Economics, University of Missouri, wrote, "For the most part, Americans want their food to be quick, convenient and cheap — regardless of whether they buy it at a supermarket or a local fast-food franchise. Americans like things that are fast and easy, requiring minimal personal or economic sacrifice."
However, the desire for "quick, convenient and cheap" has lead Americans down a slippery slope to obesity, heart disease and diabetes. Teaching students about food culture — the way we eat, why we eat, when we eat, and what we eat — brings awareness to this problem as well as informs students of healthier trends such as ethnic food and locally grown, organic food.
Let's Eat
In this activity, students will:
explore food advertising
create a food collage
develop a sense of healthy and unhealthy foods
Materials needed for this activity include:
old magazines
lined paper
large art paper
scissors
glue
Begin by brainstorming with students what commercial food brands they know. The list should be extensive since advertising for food and food products is a huge business in the U.S.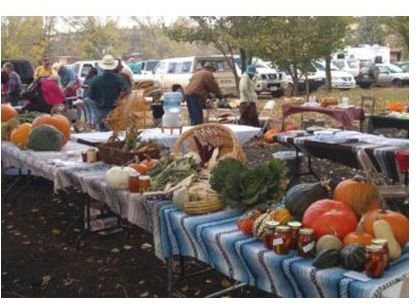 After they have made their list, ask them to form small groups. Have them make two lists — Healthy Foods, Unhealthy Foods. Negotiate their lists when they are done. Why did they put certain brands under healthy or vice versa? Discuss what makes food healthy (i.e., freshness, lack of chemicals, limited processing, etc.) More than likely, the list of unhealthy foods will outweigh the healthy.
Now, have students create collages of healthy foods from pictures they take from the magazines. Suggest that they can also cut out words to paste onto the collages also, as long as they relate to healthy food.
New Cultural Trends
America is a melting pot of humanity. Each day, people from around the world come to America; many stay, becoming citizens. With more diversity finding its way into small town America, the trend towards ethnic foods has developed over the past 10 years.
In this activity, students will:
explore the various ethnic foods found in their community
discuss their own ethnic foods — i.e., family recipes
discuss how eating is a social, political and moral act
review, as food critics, different ethnic dishes
write a review for the school or classroom newspaper
Have students brainstorm what ethnic foods are available within 10 miles of the school. Ask if anyone has visited those restaurants. What did they think? Discuss whether the cuisine is healthy or part of the fast food market.
Most ethnic restaurants are not fast food. Patrons are expected to sit and relax. As Professor Ikerd writes, "Eating makes a social statement — we eat with our family and our friends. Eating makes a political statement — what we eat affects what other people will and won't have to eat. Eating makes a moral statement — what we eat affects how the earth is treated, and thus, reflects our personal ethics. Whether we think about it or not, eating is a reflection of character."
Share this quote with the class. Have them discuss their feelings. Do they agree, or disagree? How does this statement apply to them? How does it apply to American culture? Discuss how supporting family-run restaurants differs from going to fast food outlets. Also, discuss the benefits of buying local produce. Is it important to support family farms? Why?
Family Recipes and Critiques
Ask how many students eat dishes at home that come from family recipes. What ethnicity are the dishes? Have other students had these dishes? For instance, in the Upper Peninsula of Michigan, the pasty is a local favorite sold in many Mom and Pop stores. The pasty originated in Cornish mining communities. It is a pastry shell in which meat, potato, turnip and onion are placed. The dough is folded over forming a half moon, which could be heated easily in the mines on a shovel. Students in the Upper Peninsula, regardless of whether they were of Cornish decent, would most likely have had a pasty at one time or another.
Finally, have students pick an ethnic dish that they would like to review. Have them write a critique discussing the ingredients, how it tasted, why they would recommend it to others or not. Publish the critiques in the school or classroom newspaper. If possible, have pictures of the food to go along with the critiques.
Teachable Moments
This lesson offers several important teachable moments were students have the opportunity to critically look at how and why Americans eat the way they do. Slowly, the American food culture is changing. Students have an opportunity to discover this change through these activities.
References