Where the Wild Things Are Worksheets and Activities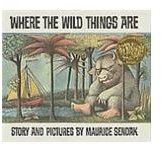 Worksheets
After reading Where the Wild Things Are by Maurice Sendak to your students, you may want to hand out
_
worksheets for this popular book in order to work on vocbualry or reading comprehension skills. Here are some places around the Web where you can find worksheets:
Crossword Puzzle Maker: Where The Wild Things Are: This crossword puzzle is already started for you with words from the book such as mischief, gnashed, and rumpus. You can add words to the puzzle or take away the ones already there before you actually make this worksheet.

Sarah Jamison Baker's Pinterest for Where the Wild Things Are offers plenty of Do-It-Yourself stuff. This mother has pinned plenty of activities, and clicking on them will let you find the websites where you can download or print the activities or downloads that she's uncovered.

FantasyJr.com offers more crossword puzzles, a printable story background, an art lesson focusing on textures and patterns, plus lots more. You'll also find a link to PBS's music and art plans relating to this wonderful story. There's also a quiz so that you can test your students' comprehension and reading retention skills.
Activities
Besides Where the Wild Things Are worksheets, students can also do activities with the book.
One fun activity that many classes do is to act out the book. This works for any size class since you can have as many "wild things" as necessary, so all children can have a part. Students can even switch parts if more than one student wants to be Max (which is likely).

Students can draw a picture of themselves with the wild things, and write a sentence or two about what they would do if they were Max.

Discuss with children Max's feelings in this book. Talk about the different emotions represented, and then ask students to think of a time when they were feeling the same way. You can also ask them to think of other stories where characters are feeling these same emotions. When students make personal connections and book to book connections, they are improving their comprehension skills. The same is true when students can understand and talk about character feelings.

Teach students about the difference between realistic fiction and fantasy (or even fiction and nonfiction). At what part of the story does the book become a fantasy? (Although some could argue that Max is merely dreaming.) Compare Where the Wild Things Are with a realistic fiction book your students like and talk about the two different genres. You can use a Venn diagram, drawn on chart paper, for comparing and contrasting.
Where the Wild Things Are worksheets and activities will improve students comprehension skills.