Teaching Healthy Eating in a Fun Way to Students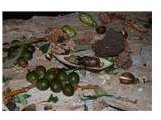 Planning a Healthy Food Party
A healthy food party as part of a kitchen science project starts with a plan of action. This gets children and adults on the same page in
talking about healthy eating, and sets the concept of 'fun' from the beginning!
Ask students to plan a theme for their healthy food party. Remind them that the idea is to have fun with food while planning and for their guests to have fun with food when they are sharing in the party.
The party could be linked to a particular celebration, or used as an opportunity to learn about another culture. Students could choose a theme based on a season, a color, an event or another country or region. For example, you could host a Halloween party, or learn about Australian bush foods and Aboriginal culture, or find out what foods are eaten in the islands of the South Pacific during a traditional lovo feast.
Think about:
how the theme guides the food choices
what decorations could be used for the theme
what activities could be completed within the party theme
what music is suitable
how many sessions you will need to complete and assess the kitchen science project
how to develop learning outcomes that relate to teaching children healthy eating and exercise
Organization
Even very young children are capable of learning personal and activity based organizational skills. Encourage students to think about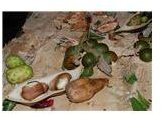 what needs to be organized for a party. They need to consider:
invitations
the date for the party
the venue
music and entertainment
tables and chairs
safe food handling
timing of the party
who to invite
what healthy party food to offer
whether there are any special healthy party food needs to consider
The Invitation
Creating invitations is a great way of applying emerging literacy skills to a practical task. Invitations need to be correctly addressed, and include factual information about time, date, place and what the party is for. Students may like to post or email their invitations, perhaps to a family member or close family friend. (Ensure you keep a list of whom to expect at the party, and that all party guests are known to the school and / or parents).
Ask students to decorate their invitations in keeping with the party theme. They may like to do this in the computer (perhaps on WordArt) or by hand, using pencils, textas or paints.
Choosing the Dishes
Encourage students to learn about healthy and less healthy foods, and to choose a balanced menu for the party. Discuss the idea of using exercise as another element to healthy living in general. This is where the learning content of teaching children healthy eating and exercise comes in! Try to do this stage in a fun way, remembering that children learn most from what they do rather than what you say!
Some examples of healthy party food include:
a dipping plate of yoghurt, carrot and celery sticks, cheese sticks and rice crackers
plain popcorn (leave off the butter and salt)
fruit sticks (alternating pieces of fruit threaded onto a bamboo skewer)
banana smoothies (milk, honey, mashed banana and plain yoghurt blended in a mixer and served in a cup)
frozen fruit juice and yoghurt treats (a small cup with an icy pole stick containing fruit juice, fresh fruit pieces and a dollop of yoghurt)
zucchini and cheese muffins
carrot cake (reduce the sugar in most recipes)
A bowl of fruit punch with attractive serving cups and a large soup ladle or punch spoon
Plain or flavoured mineral water (bubbles but no calories!) with some colored ice cubes (a drop of vegetable dye in a bowl of water, then make up the ice cubes)
Try to limit portion sizes by offering smaller plates and cups and using small serving utensils. Talk to children about serving size, so they are aware it is not just what they eat that is important, but how much. Remove the food after everyone has eaten first helpings, rather than leaving it available for ongoing grazing. This is a healthier option for safe food handling, and it also limits the amount of snacking which can occur at a party. Turn on some music or organise some party games for students while the food is being cleared away, and afterwards.
Food Allergies and Intolerances Can Make It Challenging
Some students have an allergy or intolerance to certain foods or food groupings. This makes your attention to detail as a teacher very important, as teaching these children about healthy eating and exercise can be more problematic but equally important. Ensure you are completely aware of the food needs of your students. If in doubt, ask a parent to join the party to supervise their child, or encourage them to provide a 'treat bag' so the child can choose their own foods from a safe selection provided from home. Work with the child and their family to ensure they feel included and valued as part of the celebrations, but in a way which is safe for them. Some common food problems can include:
celiac disease (wheat, rye, oats, barley and anything containing gluten as an ingredient)
lactose intolerance (milk and dairy products)
fructose intolerance (many fruits, fruit juice concentrates, sugar, some vegetables)
peanut allergy (peanuts, often together with other tree nuts)
seafood allergy (seafood such as prawns, shellfish, mussels etc)
For some students, a small amount of the food may not be a problem. For others, particularly those with an allergy rather than an intolerance, even a trace can cause a serious reaction needing emergency medical care.
Although allergies and intolerance may seem a good reason to avoid activities such as this one, ultimately avoiding the activity completely only leads to a lowered awareness of the problems, and an inability of students later in life to effectively and safely manage food issues in social situations. A better solution is to carefully plan the activity, and to involve family and other caregivers in the planning and implementation stages so that everyone can learn about the needs of individuals within the class and in the wider community.
References
Author's personal experience.