The Pigeon Books
Mo Willems, a children's author, has written several funny picture books about a spunky pigeon. Some of the titles include: The Pigeon Wants a Puppy!, Don't Let the Pigeon Stay Up Late!, and Don't Let the Pigeon Drive the Bus! These books are great for all sorts of reading activities, like writing a letter to the pigeon, creating a class pigeon book, prediction skills, and reading comprehension skills. One of the easiest reading-language activities you can do with Don't Let the Pigeon Stay Up Late! or any of the other Mo Willems' pigeon books is teaching students the four types of sentences.
Teaching Four Types of Sentences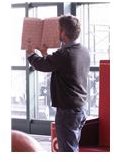 WIth this lesson plan, you will follow these steps:
Read Mo Willems's pigeon book of your choice to the class.
If this is a review lesson plan, you can do all four sentence types at one time. If you're using this lesson plan to introduce the four types of sentences to your class (such as a second grade class), then you will want to focus on one type of sentence at a time. For example, start with questions. When you read the book the second time, only focus on finding questions.
Ask students to listen for a certain type of sentence when you read the book a second time. When they hear or see a question (or a statement, exclamation, or a command), they should raise their hands or do another gesture like a thumbs-up or clap. When you see several of your students recoginizing the type of sentence you are asking them to listen or look for, then stop reading and write the sentence, with correct puncutation, on chart paper. Label it with the correct type of sentence, and move on to the next step in the lesson plan.
Keep reading the book and asking students to "find" a certain type of sentence. Again, if this is the first lesson on types of sentences, stick with one type. If this is a review lesson, you can now ask students to listen for another type of sentence such as a command or an exclamation.
One of the reasons Mo Willems's books work great for this lesson plan on types of sentences is that there are only a few words per page. The sentences are usually written in black ink, and they are easy for most children to see, especially if you are sharing this book when students are gathered around you on a carpeted area. So, students can also look for certain punctuation marks or see the words if they are more visual learners than auditory learners.