About the Book
Lesson plans about the farm can focus on crops and farm animals. Bring Me Some Apples and I'll Make You a Pie shows students how fresh fruits and vegetables, right off the farm, can be used in recipes to make delicious dishes. You can do farm lesson plans and cooking activities with this book. Robbin Gourley uses her experiences as a young girl on her grandmother's farm and her research about Chef Edna Lewis to write this story. Gourley includes an author's note about Chef Edna Lewis and some recipes for you to try with your students. From picking strawberries to gathering honey, young Edna and her family will make you hungry for some good-old fashioned recipes straight from your farm.
Using the Book for Farm Lesson Plans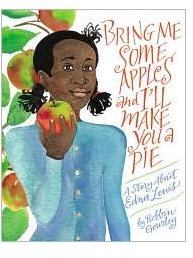 Before reading the book and starting your lesson plans about the farm, ask students what they know about a farm or a rural area. Make a list on the board in either a KWL chart or with a word web to record the information students know.
Once you and your students make a list about farms and rural areas, read Robbin Gourley's book to students. While reading the book, point out the different things on the farm and refer to the list that you made before you started reading. You can also talk to students about what plants are harvested and/or growing during certain seasons. Discuss the cooking activities that go on in the book and how they correspond to what is being grown on the farm.
Once you finish the book, you are ready to continue the appetizing part of the lesson plans about the farm. It's time to share some fresh fruits or vegetables with your students. You may want to bring in different types of apples and have an apple-tasting contest. Maybe you can share a healthy snack of fresh vegetables and low-fat dip. You will want to talk about how there are different farms and what crops grow depending on the weather and region. During these activities, you can add new facts and information to the chart that you created at the beginning of the lesson.
If you are able to do cooking activities in your classroom, then you may want to make one of the recipes in the back of the book or find another recipe from Chef Edna Lewis and make this with your students. To save money, ask parents to donate different ingredients or healthy snacks.
When you are finished with the book and your recipe, ask students to journal about the discussion of what they learned about a farm or rural area, Bring Me Some Apples and I'll Make You a Pie, or the cooking activities. This journal writing is important for wrapping up the lesson plans about the farm. Students can also share their thoughts and feelings on the book.