2nd Grade Reading Lesson on the Story of the Gingerbread Man: Comparing and Contrasting Different Versions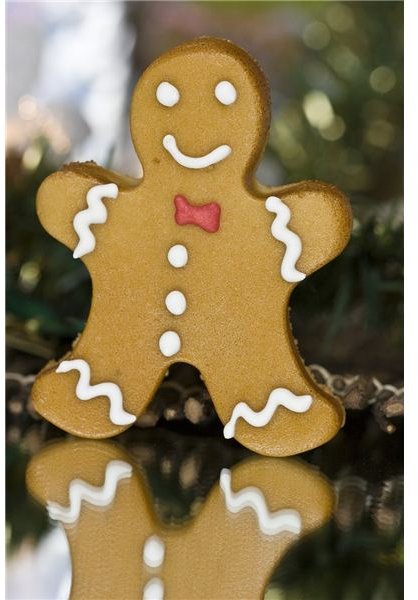 Objectives
Compare and contrast two or more versions of the same story (e.g., Cinderella stories) by different authors or from different cultures. (2.RL.9)
Recount or describe key ideas or details from a text read aloud or information presented orally or through other media. (2.SL.2)
Overview
The first known printed version of The Gingerbread Man was published in a magazine in 1875. The story has been retold for over 130 years! To this day, the story remains quite similar to the one that appeared in the magazine but with so many printed versions, some details have been changed. For this lesson, you will find many books from which to choose. Below are four selections that were then narrowed down to two choices for this comparison. You may want to have several other versions available in the classroom for your students to read on their own.
Materials
At least two books by different authors of The Gingerbread Man (the versions with the best differences are by Aylesworth and Nolte)
12" x 18" Construction paper-one sheet per student
Scissors, glue stick, pencils, crayons
Two copies of the downloadable blank Gingerbread Man for each student.
One copy of the downloadable gingerbread house for each student
You may choose to make a template/pattern of the house and man and have the students trace and cut out their own materials.
Lesson
Begin with a dialog such as the following.
How many of you have heard the story of The Gingerbread Man? This story was first published over 130 years ago! It has been retold many times over the years. Today we are going to read two versions of the same story. As you listen, pay attention to these things:
How was the Gingerbread Man decorated?
What animals/people chased the Gingerbread Man?
How are the illustrations different?
What did the Gingerbread Man say to everyone?
What did the fox do to trick the Gingerbread Man?
After listening and discussing how the stories were the same and what things were different give your students the materials they need. Glue the gingerbread house in the center of the 12"x18" piece of construction paper and then glue a gingerbread man on each side of the house. Print one author's name above one of the gingerbread men and then print the other author's name above the second gingerbread man. On the gingerbread house, write three to five things that were the same in both books. On each gingerbread man, write three to five things that were different in the book by the designated author. Add small drawings from the story in the available space.
Extension Activity
Place other Gingerbread Man books in the room and invite students to compare and contrast the book with one of the books that the class read.
References
Kimmel, Eric. The Gingerbread Man. Holiday House, 1993.
Aylesworth, Jim. The Gingerbread Man. Scholastic Press, 1998.
Nolte, Nancy. The Gingerbread Man. A Golden Book, 1953.
Rodriguez, Beatrice. The Gingerbread Man. North-South Books, 2012.