Let's Go Hog Wild with "Princess Pig" Book Activities for K-3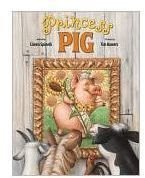 Pig has always dreamed of being a princess. Then one day she awakens from a nap and she is wearing a princess sash. Could it be? Is
she a real princess? She must check with her friends to be sure.
Use this book by Eileen Spinelli when working on the letter P, alliteration, a farm theme, a royalty theme, pig theme or for just plain fun! Then follow up with activities that go with Princess Pig.
What Do You Need to Be a Princess?
Before reading the book, brainstorm with your students. List everything you would need to be a princess. Then see if it matches what Pig's friends think she needs.
Read the book and mark off the things that match your list.
I'll Be the Cow and You Be the Pony!
After the first reading, students can act out the story as you read it again. Gather the names of the students who wish to be involved. Place them in a basket and choose names for the parts. This adds to the fun because you may have a tiny girl playing the part of the cow or a big boy playing the princess and so on. Provide animal masks or props if available.
Do this several times until everyone who wishes to be involved has a turn.
Chewing the Fat
Take time to have a round circle discussion about what Pig learned in the book. Lead the discussion in a direction to allow the students to understand that it is always better to just be yourself.
What was Pig missing by being a princess?
Why didn't the other animals invite Pig to the party?
What does it mean when Pig looks at her portrait and says, "That looks like me but it's not who I am"
If you were Pig, would you continue to be a princess?
If you were a prince, princess or famous celebrity, what would you miss about your normal life?
Write Wisely With Wonderful Words
Your students may not have noticed but the author has used the literary device of alliteration within the text of this book. Alliteration in a sentence is the repetition of an initial letter sound in at least two words in a row. Choose some examples from the book to illustrate the techniques with your students:
"She saw the sash …she squealed."
"I will have the pretty princess pie…"
Then display a list of common and proper nouns and challenge your students to choose a few and write sentences using alliteration. If appropriate for the level of your students, a thesaurus may be used. You may also put students in pairs to work.
Here are a few examples:
Dog- The dingy dog did dangerous deeds and dazzled the crowds.
Truck-The tanker truck traveled into treacherous territory.
Student- Silly students sit in study hall while others are playing.
Brooklyn Bridge- Building the Brooklyn Bridge was a fantastic feat.
Are You All Ears?
Read the book one more time for a listening activity. You may choose to have the students stand up or sit down and then decide how they will respond. For example they could clap hands, stomp feet, etc. Read in a normal voice and have the students respond every time they hear the sound the letter "P" makes. There are approximately 110 "P" words so you may just wear the kids out!
Compare and Contrast
Divide a paper into three columns to make a simple graphic organizer. One column will be labeled "Princess Pig," one column labeled

"Real Pig" and the center column labeled "Both." Read a nonfiction selection mentioned in this article or use a reference book or website. The task is to compare and contrast Princess Pig with a real pig. Are there any possible entries that students can put in the column labeled "Both"?
Go Hog Wild!
If you choose to do a pig theme, here are some other great books featuring precocious pigs. Add them to your lesson and you will have a fine time or should that be a swine time?
If you Give A Pig a Party by Laura Numeroff, part of a famous series starting with If you Give a Mouse a Cookie. What happens when Pig, famous for eating pancakes, decides to throw a party? Will balloons be enough?
Pigs by Robert Munsch. When Megan feeds the pigs before school one morning, she forgets to lock the gate. Chaos ensues!
The Little Pig by Judy Dunn. Here is a nonfiction entry telling the story of a little pig from birth to competition in the local pet show.
Pigs Aplenty, Pigs Galore! by David McPhail. This is a hilarious picture book about a house filling with pigs.
Pigs by Gail Gibbons. This book is packed with information and trivia about raising pigs.
Piggie Pie by Margie Palatini. When the Gritch has a craving for piggiepie she travels to Old MacDonald's Farm. But where are all of the pigs?
Adapted Princess Pig Activities
Take some well-known games and make them Pig-tacular then use them to finish up the Princess Pig activities .
Play hot potato with a tiny stuffed pig instead of a potato.
Instead of "Duck, Duck, Goose" play "Pony, Pony, Pig"
Use a small plastic pig to play an adapted version of "Button, Button, Who's got the button?"
Hide a stuffed pig and play the "Hot and Cold" as the person searching for the pig gets closer to the pig.
Resources
Websites with pig facts:
Oklahoma State University, Breeds of Livestock
References
Spinelli, Eileen. Princess Pig. Random House, 2009.
Image Sources:
Large Black Pigs, by Amanda Slater, https://commons.wikimedia.org/wiki/File:Large_Black_pigs.jpg
amazon.com
Information source:
Author's twenty-five years of teaching
Amazon.com for additional books