Firefighter Thematic Unit for Kindergarten and First Grade: Songs, Learning Activities and More About Fire Safety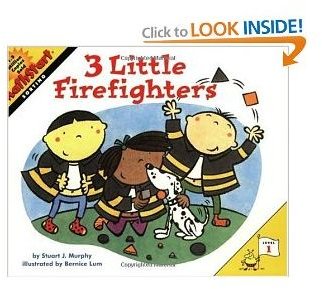 Young children are fascinated by firefighters. Take advantage of their interest and plan a thematic unit about firemen. These activities are perfect for Fire Prevention Month or as part of a larger theme about community helpers.
Poems and Songs
Songs and poems are a great way to add some language arts to your thematic units. Use them for circle time or shared reading. Here a couple of fun firefighters songs and poems that are perfect for a thematic unit.
Ten Little Firefighters
Ten little firefighters
Sleeping in their beds.
"Ding!" went the bell,
And down the pole they slid.
They raced to the fire
And put out all the flames.
Then the 10 little firefighters
Went back to bed again.
-Author Unknown
I Am A Firefighter
Sung to: "I'm A Little Teapot"
I'm a brave firefighter dressed in red.
With my fire hat on my head.
I can drive the fire truck, fight fire too
And help make things safe for you.
-Author Unknown
Here are a few activities to do with the poems besides just reading and singing them.
Give each child a copy to illustrate and put in a poetry folder or notebook. Encourage the students to practice reading them alone or with a partner. This really helps build fluency.

Find word wall words, nouns, describing words or any other word type you happen to be learning about. You could also look for spelling patterns like short 'e' words, words that start that with certain letters or words with a specific ending.

Write each line of the poem on a sentence strip. Place them in a pocket chart in your poetry or reading center along with a copy of the poem and let the children put them in order.
Math
Use the book Three Little Firefighters by Stuart J. Murphy to introduce or review sorting with your students. Three little firefighters are getting dressed for the big parade, but when they grab their coats they discover that the buttons are missing. Once they have found enough buttons, they have to find a way to sort them so that each firefighter gets four buttons for his coat. This book from the MathStart series provides a simple introduction to sorting for pre-K or kindergarten students and is a fun review for older students.
Once you have read and discussed the story, give pairs or small groups of students a collection buttons to sort. Challenge to see how many ways they can think of to sort the buttons. They can also sort lids, keys, rocks or any other groups of small items that are similar.
For a class sorting activity about firemen show the children pictures of items worn and used by people with different occupations. Sort the pictures by whether firefighters use/wear them or not. Ideas for pictures include fireman hat, hose, boots, stethoscope, straw hat, rake, radio, police car and microscope.
Additional Activities
There are lots of ways to slip some writing, science, social studies and more into your firefighter theme.
Make a KWL chart about firefighters to find out what the students know and want to know about being a fireman. Fill in what they learned after reading some great books about fighting fires. Here are a few books to consider adding to your unit.
DK Readers: Jobs People Do – A Day in a Life of a Firefighter by Linda Hayward
Fire!Fire! by Gail Gibbons
All Aboard Fire Trucks by Teddy Slater
Invite a local firefighter to visit your class and talk to the children about his or her job. Check with your fire department, as many have education programs where you might be able to arrange for a fire engine to visit your school too.
Use your unit about firemen to review or teach a fire safety lesson to your students.
Have your students write letters to your fire department. This is a great activity to teach children about writing letters. They can ask questions they have and thank the firefighters for all that they do.
A thematic unit is a fun way to teach your students about fire safety and some of our bravest community helpers.
Resources
Source: author's personal experience
Photo source: Amazon.com