Vocabulary To Help You Enjoy Your Experiences With Spanish Cuisine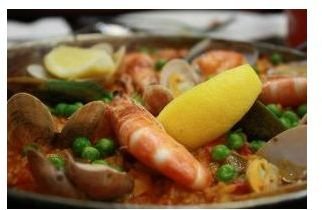 A Variety of Spanish Food
Although foods vary from region to region throughout Spain, there is one common characteristic to all good Spanish cooking: Spanish cooks use the best and finest ingredients.
In Spain, seafood is a mainstay of Spanish cuisine. Chicken is also important. So, too, are fruits and vegetables. Spain is also renowned for its olives, oranges and the grapes cultivated for wine. These are all grown in large quantities.
Latin American cuisine is largely meat- or fish-based. Common elements in Latin American dishes are also corn and chili. Local specialties include steak from Argentina as well as Peruvian raw-fish, called _ceviche**.**_
Spanish Food Customs
Spanish food customs differ as we move to various Spanish communities throughout the world. For example, the Spaniards–the actual natives of Spain–have breakfast as a small meal. This is followed by tapas mid-morning, prior to lunch, which is the largest meal of the day, a large meal of four to six courses. Their siesta, the time when the whole family takes a break from work and school, falls just after lunch between 2 to 4:00 p.m.
Lunch starts with soup, like a gazpacho for example, and this is then is followed by a salad. The main course usually consists of potatoes, rice or vegetables with probably some succulent roast pork if you are in Valencia or some squid if you are in the Basque country. This is followed by dessert. A cup of coffee and a glass of liqueur for the adults usually rounds off the meal.
Latin Americans, on the other hand, have larger breakfasts. Their dishes consist of lots of eggs, pork, steaks and rice and beans. Their meals are usually set out all in one plate, and not in different courses as is done in Spain.
Memorize These Words
You may already know quite a bit of Spanish or just a smattering of basic words. To reinforce you learning, here are some words that you need to memorize and keep handy for use in a Spanish restaurant:
la carta - the menu
el menú del día - the day's set menu
el agua - water
el agua con gas - sparkling water
el agua sin gas - still water
la carta de vinos - the wine list
la cerveza - beer
el vino - wine
el jugo - fruit juice
el primer plato - appetizer
el plato principal - main course
el postre - dessert
el desayuno - breakfast
el almuerzo - lunch
la cena - dinner
la cuenta - the check ( the bill)
Arriving at the Restaurant
Here is an example of a conversation that you can practice with a friend in preparation for having a meal at a Spanish restaurant.
Waiter: Buenas tardes, señor, señora: Good evening, sir, madam.
You: Buenos tardes señor; una mesa para dos personas, por favor: Good evening sir, a table for two, please.
Waiter: Tiene una reservación? Do you have a reservation?
You: Sí, a nombre de Diaz: Yes, in the name of Diaz.
Waiter: Síganme por favor: Follow me, please.
You: Quisiera ver la carta, por favor: I would like to see the menu please_._
Waiter: Qué quiere beber? Quiere ver la carta de vinos? What do you want to drink? Would you like to see the wine list?
You: Sí señor. Gracias: Yes, sir. Thank you.
Ordering Your Meal
You: Quisiera un vaso de vino rojo, por favor: I would like a glass of red wine, please.
Your companion: Yo quisiera una cerveza, por favor: I would like a beer, please.
You: Una sopa de lentejas madrileña: A lentil soup, Madrid style.
Your companion: Una ensalada para mí, entonces una paella y un pisto manchego: A salad for me, then a paella and some stewed vegetables.
You: Quisiera también un arroz con pollo, por favor.Qué tiene de postre? I would also like some chicken with rice. What do you have for dessert?
The waiter gives you his selection, You choose:
You: Un flan para mí: A caramel custard for me_._
Your companion: Para mi, un flan tambien: A caramel custard for me, too_._
At the end of the meal you ask:
You: La cuenta, por favor: The bill, please_._
There is an expression that you can use to express your best wishes to your companion before starting your meal: Buen provecho! - Enjoy your meal! This is our wish to you and your dining companions when you visit your next Spanish or Latin American restaurant.
References