A Review of Sueños: Fun and Free, An Online Spanish Learning Hosted by the BBC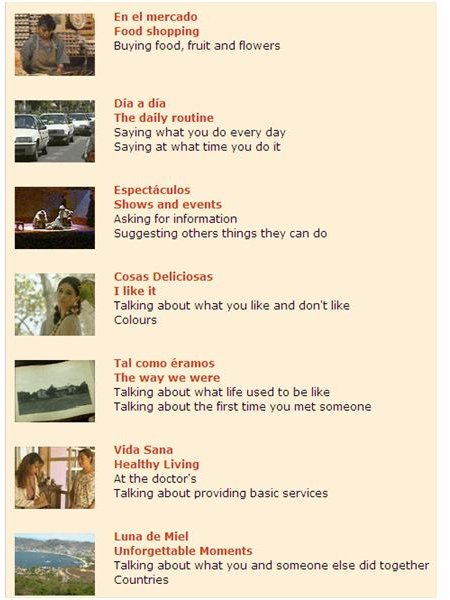 What You'll Learn
Sueños is an online Spanish language learning program hosted by BBC and based on clips from the 20-part TV series, Sueños, World Spanish. This completely free program is easily accessible online and can be used on its own or to supplement any formal or informal Spanish language learning experience.
What will you learn using Sueños? You will learn a variety of important domains of vocabulary, as well as important bits of cultural knowledge, as you navigate through the ten units of the Sueños program. Here is a brief rundown of what you will learn through each unit as you join the real life characters in their daily adventures, discussion and reminiscing in various Spanish-speaking countries around the world.
In "De Compras" (Buying Things), you'll learn about how to buy presents and souvenirs. You'll also learn a little about the culture of Uruguay, a South American country where Spanish is widely used.
In "El Mercado" (The Market), you'll learn about Mexican culture as you learn how to make food, fruit and flower purchases in Mexico City.
In "Día a Día" (Day to Day), an episode set in Madrid, Spain, you'll learn about a couple typical Spanish people's daily lives, as well as how to express your own daily routines in Spanish.
In "Espectáculos" (Shows and Events), set in Almagro in central Spain, you will learn how to ask for information, and how to make suggestions for activities people could do.
In "Me gusta" (I Like It), you will be exposed to the unique artistic side of Colombian culture, and will learn how to talk about colors and how to express likes and dislikes.
In "Tal como éramos " (The Way We Were), you'll learn how to express certain thoughts in the past tense–how to talk about what life was like in the past, as well as how to talk about the first time you met someone, as you listen to two people reminisce about their younger lives in Argentina and Spain.
In "Vida Sana " (Health Living), set in Guadalajara, Mexico, you'll learn basic terms having to do with the doctor's office. You will also learn how to talk about providing basic health services.
In "Luna de Miel" (Honeymoon), you will get the inside scoop on two honeymooning couples, how they chose their destinations and why. In the process, you will learn how to talk about what you and another person did together.
In "De turismo" (Tourism), you will visit Trujillo, a town in Western Spain where two famous (or perhaps infamous) conquistadores (Cortés and Pizarro) got their start. This lesson will teach you the vocabulary having to do with visiting historic places.
Finally, in "¿Estudias o trabajas?" (Studies or Work?) you will learn how to talk about starting your career, as a teacher and students discuss issues of studies and work.
The topics covered through Sueños are down to earth, and culturally and linguistically varied. They are fun, everyday topics that you must be able to dialog in if you wish to be a fluent speaker of Spanish.
How You'll Learn It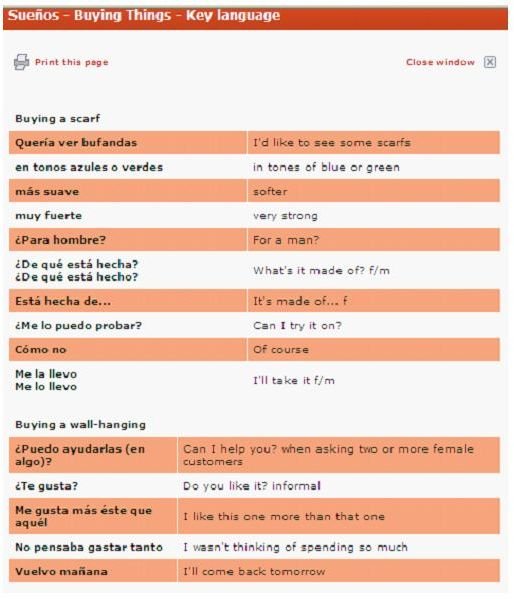 In Sueños, vocabulary, grammar and culture are all learned in the context of video clips set in real life scenarios with real Spanish speakers. Because the speakers come from various Spanish-speaking countries, their accents differ accordingly, giving the learner a varied, realistic (although not consistent) exposure to the Spanish spoken in Spain as well as Mexico and Central and South America.
Each of the ten units described on page one has the same basic components:
Two Video Clips (with Audio and Text, too!) - Each of the two video clips highlights aspects of Spanish language and culture to be learned. You can watch or listen to the episodes, but you need to have Real Player installed on your computer in order to do so. Accompanying every video/audio file is a complete text transcript in Spanish, with a translation in English available as well.
Key Language - The "Key Language" component for each unit lists important phrases for that unit, with the Spanish side by side with the English translations.
Key Words - This component of each unit is basically a vocabulary list, which gives important words in the related domain, listed alphabetically in Spanish with the English translations next to them.
In addition to these key components, learners have access to full text transcripts of BBC's Sueños television episodes; these, however, would probably only be of interest to students who already have a good grounding in Spanish, or who have access to these episodes (not aired in the United States).
The methodology of Sueños is simple, the video and audio clips are intriguing, and the translations are helpful. Though this is by no means a complete program for learning Spanish, it's an excellent supplement to any formal or informal Spanish learning program. It exposes the learner to various Spanish-speaking cultures, a variety of Spanish language accents, and numerous important words and phrases. It's fun, and best of all, it's completely free!
Visit Sueños online to access the clips, the television transcripts and the optionally available CDs and cassettes.