Download this software now!
Anyone who likes using flash cards to help with learning will love BYKI Spanish Deluxe. This language learning software by Transparent Language hooks new users with a free "express" version. Upgrading to the deluxe edition allows the user to take advantage of the full power of this truly nifty language practice software. BYKI has one of the most snazzy and interactive interfaces and will appeal to every learning style. It combines drills and reinforcement (declarative and procedural learning) and a sensational user interface that makes language learning fun. What follows is a review of the BYKI Deluxe edition.
Installation and setup (5 out of 5)
The basic program and its Spanish language module download easily with no problems. (Click and watch the program load; then open it up.) Setup consists of one easy step where you just add yourself as a user, and you're ready to go. To create a new list, just switch to the "Edit" tab and follow the prompts. Very low-tech!
Price to value (5 out of 5)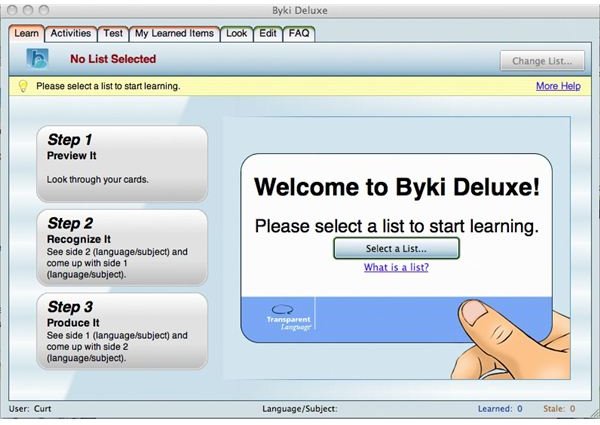 BYKI is an expensive product, but is good value for the money. When you buy the software, you specify the language module, and you'll receive a listing of thousands of words and phrases, parts of speech and situational vocabulary lists. What adds to the value of this software is that you can edit existing lists and add your own new word lists. You can even add your own voice recording to each new flashcard.
To further add to the value, the student can use the program to make any flashcards on any subject. Better yet, all the nifty features of this software (learning, reinforcing, and testing) are applied to any personally designed list the user adds. For example, the program makes separate flash cards, matching drills, and fill-in/multiple choice quizzes based on each list entered into the program. Buy the deluxe version of BYKI and you can use it for any learning project involving terms, definitions, or values.
User interface and features (5 out of 5)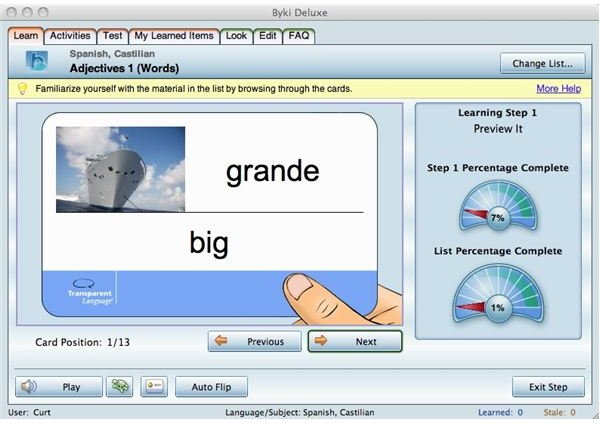 The new BYKI Deluxe user can dive right into this software with virtually no tutorial. Just add yourself as a user and check out the tabs. Click on the "Learn" tab to begin the flashcard vocabulary drills, complete with sounds and pictures. Switch to the "Activities" tab for self-testing and some robust practice and interesting games. Learning is further reinforced on the "Test" tab which includes reviewing the flashcards, writing answers (the program comes with its own language keyboard interface for accented letters), and a listening comprehension as well as a dictation test. (A native speaker of the language module pronounces each word or phrase.)
You can also export (share) and import BYKI vocabulary lists from BYKI's web site. You can also import a word list from and to Microsoft Excel and Microsoft Word. The process is somewhat tedious and tricky, but could save a lot of data entry in BYKI. So it is worth the trouble.
Help and support (5 out of 5)
This software comes with some hefty built-in and web support. Its help menu includes a video guided tour and an excellent help directory with quick access to everything the user needs to know. Its supporting web site offers free access to more language vocabulary and phrase lists that you can download into your BYKI program.
Try it; you'll like it! (5 out of 5)
Spanish instructors should show this program to all students regardless of age or ability. The free express program (comes in PC or Mac versions) is stocked with some good basic practice in basic Spanish vocabulary and phrases. Later, the deluxe BYKI will aid your additional studies. The attractive interface and the program's appeal to different learning styles will make it a universal favorite among their students. This is a great product.