Semana Santa Vocabulary: Spanish Words for Easter Celebrations, Traditions & Food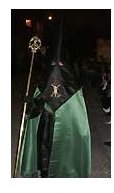 Semana Santa
Lent
Easter is preceded by 40 days of Lent in which many participate in fasting. Here are the words for the most important days:
Semana Santa - Holy Week
Pascua - Easter
Felices Pascuas - Happy Easter
La cuaresma - Lent
Miercoles de ceniza - Ash Wednesday
Jueves Santo - Holy Thursday
Viernes Santo - Good Friday
Domingo de Palmera - Palm Sunday
Ash Wednesday
The entire time up to Easter is marked by religious traditions. On Ash Wednesday, Catholics go to church to repent from their sins and get an ash cross marked on their forehead.
Iglesia - church
Ceniza - ash
cruz - cross
El cura - priest
La vela - candle
Palm Sunday
The Sunday before Easter is known as Palm Sunday. This marks Jesus' triumphal entry into Jerusalem before his death. It is also the occasion when many Catholic children receive their frist communion.
Primera comunion - First communion
On that day and in many regions of Spain, processions take to the street, people carrying palm branches which are often decorated with flowers, bows or tinsel. They also sometimes carry a statue of the Virgin Mary.
La hoja - leaf
La palmera - palm tree
La Dolorosa - Weeping Virgin Mary
Brotherhoods
Throughout Semana Santa, the hundreds of religious brotherhoods which exist in Spain play an important role.
Hermandad - brotherhood
Cofradia - brotherhood
Corporacion - brotherhood
The brotherhood consists of male members of a particular parish. Their purpose is to re-enact a specific theme related to the sufferings of Christ duing their highly emotional processions through the streets of their town at semana santa.
Procesion - procession
According to their chosen theme, they wear specific cloaks and hoods and carry statues of Christ or the Virign Mary. Some, who commemorate the suffering of the Lord during his way to the cross, carry whips or chains and even flay themselves to do penitence.
Flagelar - flog
Cadenas - chains
Capucha - hood
Estandarta - flag
Very well known in the region of Valencia is
La Hermandad de Buena Muerte - Brotherhood of Holy Death
Its members consist exclusivley of retired or active members of the legion (Legion de Honor)
La legion - the legion
La legion is considered as the bravest and toughest part of the Spanish military.
The processions take place at night, accompanied by drums and lighted by torches.
Por la noche - at night
La tombona - drum
La torcha - torches
It is a totally fascinating, solemn and emotional experience, for participants and spectators alike.
Easter Meal
Once Lent or cuaresma is over, a time during which Catholics are not supposed to eat meat and generally fast, it's time for a sumptuous Easter Meal and celebrations.
Ayunar - to fast
Celebrar - to celebrate
As Easter is the ime of year when lambs are born, the traditional main course consists of lamb.
Cordero asado - roasted lamb
Chuleta de cordero - lamb chop
Pierna de cordero - leg of lamb
Costilla de cordeo - rib of lamb
What's for Dinner?
The meat is prepared with lots of garlic and spices.
Ajo - garlic
Cebolla - onion
Salsa - gravy
Vegetables to go with it are mostly green.
Judias verdes - green beans
Espinachas - spinach
Alcachofas - artichokes
Ensalada verde - green salad
Ensalada mixta - mixed tomatoe, lettuce and cucumber salad
Apetizers are often seafood.
Tapas variadas - mixed apetizers
Dessert
Of course, an important meal needs to be rounded off with a delicious desert. Typical for Spain are the following:
el postre - desert
Crema Catalana - a soft lemon flavored custard
Arroz con leche - rice pudding
Flan de huevo - egg pudding
Flan de vanilla - vanille pudding
Drink
All accompanied with copious amounts of red wine.
Vino tinto - red wine
Rioja - best region for red wine
una copa de vino - a glass of wine
un trago - a sip
I hope you get the chance to practice Spanish in Spain and experience a traditional Easter celebration!