A Review of "Mi Vida Loca": Free Online Spanish Course From the BBC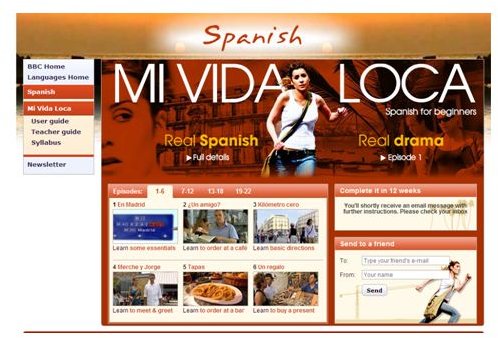 Overall Assessment (5 out of 5)
The online video mystery series "Mi Vida Loca," is set in Spain. The intriguing series is designed especially to help students learn Spanish, taking them from knowing nothing about the language to being able to have limited everyday conversations–all in twelve weeks.
This Spanish-learning resource is excellent for a number of reasons: it is available online, thus always accessible, while also being flexible according to the student's scheduling needs. It is free! Its audio/video format gives the student great auditory and visual input, enabling them to hear the sounds of Spanish and see the words, while also observing Spanish cultural scenarios and cues. For all these reasons and more, "Mi Vida Loca" is a great way to learn Spanish.
Layout (5 out of 5)
The main page for the "Mi Vida Loca" course is laid out simply and straightforwardly.
There is a left-hand column linking to the three items a student may want to reference: the user guide, the teacher guide and the syllabus. In the center of the page, you will find links to each of the mystery video episodes upon which all the lessons are based. On the right side of the page, there is a box where you can sign up to receive weekly emails that will guide you through the twelve-week Spanish language learning program.
Whether you choose to sign up for the emails that guide you through the program, or simply to go on the website and watch the episodes at your leisure, you'll find the main page of "Mi Vida Loca" easy to navigate.
Content (5 out of 5)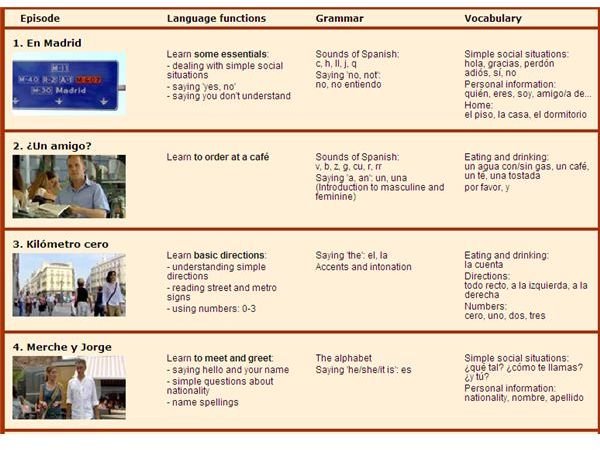 "Mi Vida Loca" teaches you everyday, practical Spanish through a fascinating mystery video series starring you! You can watch all these videos online. Each video episode covers different language functions, grammar and vocabulary, and then offers activities to reinforce the concepts introduced in the video.
For example, lesson one teaches you the following language functions:
Dealing with simple social situations
Saying "yes" and "no"
Saying you don't understand
Lesson one will also teach certain grammar points and vocabulary. For an excellent concise summary of what language functions, grammatical points and vocabulary words are covered in each episode, visit the "Mi Vida Loca" syllabus online.
Navigating an Episode (5 out of 5)
Each of the twenty-two episodes of "Mi Vida Loca" follows basically the same layout. So let's take episode six as an example of how to navigate one episode.
The episodes of "Mi Vida Loca" can all be accessed from the main page. A small picture represents each episode, and is accompanied by two links: the link above the photo takes you to the actual episode, while the link below the picture takes you to a variety of supporting activities that will help you with grammar, vocabulary building and language practice.
So you choose episode six. You first click on the upper link, "Un Regalo," You are the main character in this video episode, and you find yourself interacting with different characters as the story progresses. At this point, there is dialog in Spanish, but also narrative in English, so you can follow along even if you're a complete beginner at Spanish. The great thing about having visuals is that even when you don't know the Spanish words, you can figure them out from what you see in the video. Also, Spanish and English subtitles (optional) appear at the bottom of the screen. When you've finished watching this episode– in which you observed a café, an apartment, a market, and people's interactions in all these places–you can spend some time doing activities that reinforce what you've watched.
To do some activities that accompany episode six, click on the link below the picture, "Learn to buy a present." A new webpage will open and will tell you what this lesson basically covers: "Go over the numbers 1-15 and get some more practice on listening to prices and ticket information. Test yourself on plurals and try filling in a transcript from the episode. This section takes roughly 15 minutes to complete." So now you know not only what you can expect to learn in this episode, but also how long it will take you.
After previewing what you'll learn, you can choose Grammar, Vocabulary and Practice. Start with vocabulary. Not only do you see the words written in Spanish, but you also see and hear a teacher explaining how the words are pronounced. You can listen to all the vocabulary words and practice them. Then move on to the Grammar tab; in this particular lesson, you'll be taught how to make singular and plural forms of nouns, as well as of course having an opportunity to try out what you've learned. Finally, click on the Practice tab, where you'll get to complete several activities (crossword puzzle, fill-in-the-blanks, matching) that will help firm up the words you've learned.
Summary (5 out of 5)
Each of the twenty-two episodes provides helpful Spanish learning materials, from a video clip to various activities to reinforce the grammar and vocabulary introduced in that clip. The episodes can be watched at your leisure, or you can go according to the twelve-week schedule that is sent to your email inbox.
Because it uses audio and visual input, is completely free, and is easy to navigate, "Mi Vida Loca" is an excellent Spanish language learning resource that will set you off on the right foot in learning Spanish. It will not make you completely fluent in Spanish, but it will give you a strong start that will prepare you for basic conversational skills in the language.
With the free and comprehensive nature of this course, it is recommended highly.