Tomie dePaola's "Strega Nona Takes a Vacation," Summary and Review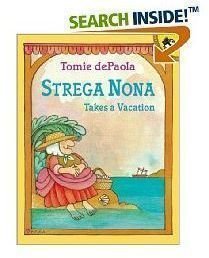 About the Author (5 out of 5)
Tomie dePaola is a well renowned children's author famous for many of his wonderful characters including Strega Nona, Big Anthony and The Barker Twins.
Some awards won by Tomie dePaola include:
Caldecott Honor Award for STREGA NONA from American Library Association (ALA)
Newbery Honor Award for 26 FAIRMOUNT AVENUE from ALA
Smithson Medal from Smithsonian Institution
Regina Medal from Catholic Library Association
Strega Nona Takes a Vacation
About the Book (5 out of 5)
Strega Nona is a grandmother "Nonna" from Italy who is respected in her village of Calabria as a "Strega" or a witch. Strega Nona is a medicine woman treating all kinds of "illnesses" such as headaches, toothaches and she even has ways of finding a husband for you!
In this book of the series, Strega Nona dreams of her own Italian grandma. Her grandma persuades her to take a vacation as she is working herself too hard. So Strega Nona leaves her two trusty (or not so trusty) workers, Bambolona and Big Anthony, in charge. As usual Big Anthony makes a mess of things and the mayor comes looking for Strega Nona!
Language & Culture (4 out of 5)
In this book, dePaola introduces the Italian language by squeezing in wonderful little Italian words and phrases. He states the Italian words, then restates the same words in English…so you have a bit of a language class while reading! You also learn about the Italian culture and how many things were "long ago". I especially liked reading about Strega Nona and her grandma Concetta playing in the village when she was a young girl. The pictures are colorful and keep children interested.
While this is not a book for totally immersing a child into the language it can be used to introduce the language. Some Italian words you find in this book are:
Un sogno-a dream
Regali-presents
Un bacio- a kiss
Price & Enjoyment (4 out of 5)
Overall an excellent book for children, especially those fond of or learning about the Italian culture and Italian language. dePaola has written a series of books about Strega Nona and if you have read the other books, you will certainly enjoy this installment. If you have not read the other books in the series, you will still enjoy this book but may miss some of the humor. You can find this book in local bookstores or online at $5.99 USA and $8.99 Canada. Recommended for children 4-8 years old.
More on the Author