Overview of the Software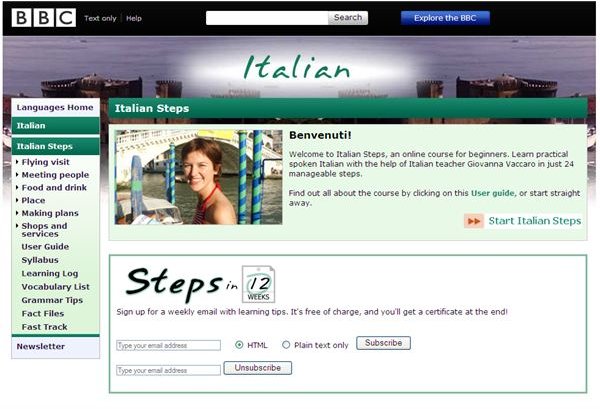 Italian Steps, hosted online by BBC, is a language learning program that gives people an introduction to Italian language and culture. The program has twenty-four stages overall, which are divided between six different units. After completing these twenty-four stages, someone should be able to at least understand basic interactions in everyday Italian; the learner may also be able to produce language in these same situations, but production usually takes more practice. In any case, this is an excellent introduction to the Italian language!
The units progress in a natural order, similar to the order of events you may encounter if you take a trip to Italy. The units are:
Flying Visit
Meeting People
Food and Drink
Place
Making Plans
Shops and Services
For each of the twenty-four stages divided among the six units, there is a photo slide show accompanied by Italian audio and English and Spanish text (if you just want to hear the language spoken, you can disable the text future and have purely audio input). The photo slideshow and audio expose the learner to basic structures of Italian words, phrases and sentences. Then, the learner can move on to activities that reinforce this learning.
For each stage, there are approximately four fun, interactive games or activities to reinforce the vocabulary and grammar structures learned in Italian (in addition to helpful grammar and cultural notes).
A Closer Look at the Units
Each unit is arranged logically to take the learner, step by step, through learning new Italian words and concepts, combined with important cultural information. Every unit has four stages and one final "challenge" at the end of the four lessons.
For example, unit two, "Meeting People," has four stages (i.e., lessons) within the unit:
Spelling Your Name
Where You Come From
Friends and Family
Saying What You Do
Each of these stages, or lessons, is made up of the basic video/audio slideshow and reinforcing activities. Each stage is also supplemented by a main objective, grammar tips, and fact files. For example, under Unit Two, "Meeting People," the "Friends and Family" stage contains the following helpful material:
Objective: Introducing yourself and others.
Grammar file: How to say "my," an introduction to possessives: mio, mia, il mio, la mia.
Fact file: Introductions, a very helpful article on how to make introductions in a culturally appropriate way.
Each stage – of which there are twenty-four total – contain an impressive amount of Italian language data and information that will help you get an excellent start in learning the Italian language! Check out the Italian Steps Syllabus online to get a full overview of all the stages, challenges and activities you can cover through the course of the six units.
How to Navigate the Curriculum
Ease of navigation is one of Italian Steps' most alluring features. The program has a lot going for it: it is completely free, the activities are fun, the content is real and useful for everyday conversation, and the website is well organized. Here's what you will see when you visit the homepage of Italian Steps:
1) In the center of the page, a place where you can sign-up to receive the course bit by bit delivered to you via email;
2) On the left sidebar, a list of the following helpful elements, each of which will open into a new page when clicked on:
Each Unit – when you click on one of these, you'll see a list of the lessons within the unit
User Guide – tells you what you'll need to complete the program, and how to go about self-directed Italian language learning using the Italian Steps program
Syllabus – tells you what the objectives of each lesson are
Learning Log – printable pages for each unit on which you can keep track of your progress
Vocabulary List – alphabetically ordered lists of helpful vocabulary, with the Italian and English equivalents listed.
Grammar Tips – organized by unit
Fact Files – dozens of articles teaching you important Italian cultural items
Italian Steps is a fun, interactive way to get your feet wet in the Italian language. It is easy to navigate, full of helpful information and activities, and best of all, it is free. Try it out and see if you like it. Ciao!