Vocabulary and Adjective List to Describe Movies in German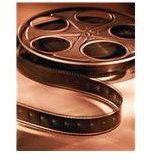 Das Kino "The Movies"
What's your favorite type of movie? Why do you like that genre? What kinds of movie don't you like? This article provides some vocabulary for you to discuss your preferences in German and perhaps even to make arrangements for going to the cinema to see a German movie.
Genres
The following list of genres is, of course, not complete but includes most of the main categories you would be likely to talk about in
general conversation. They are arranged alphabetically by the English description. Note that, for many genres, the borrowed English word is in common use.
action movie = der Actionfilm
comedy = die Komödie
crime film = der Verbrechenfilm / das Krimi
documentary = der Dokumentarfilm
drama = das Drama
family movie = der Familienfilm
feelgood movie = der Feelgood-film
foreign movie = der Auslandsfilm
horror movie = der Horrorfilm
romance = der romantischer Film
romantic comedy (romcom) = die romantische Komödie
Sci Fi movie = der Sci-Fi-Film / der Sciencefictionsfilm
sports movie = der Sportfilm
suspense movie / thriller = das Krimi
teen movie =derTeenager-film
war movie = der Kriegsfilm
This list of genres is also available as a download.
Describing Good Movies
Now that you know how to tell someone the type of movie you like to watch, how would you describe it and why you like it? The following are some adjectives that will help.
Wir war der Film? Der war…
different = anders

educational = ausbildend

exciting = erregend

funny = komisch (can also mean "strange")

happy = fröhlich / ermunternd

interesting = interessant

sad = jämmerlich / betrübend

scary = schreckhaft

suspenseful = anspannend

sweet =süβ
Describing Bad Movies
Perhaps your cinematic experience wasn't quite up to scratch. Explain your disappointments and dislikes with help from this list of adjectives:
Der Film war…
boring = langweilig
confusing = verwirrend
kitschy = kitschig
nasty = scheußlich
offensive = beleidigend
preachy = salbadernd
ridiculous = lächerlich
silly = (ganz) dumm
slow = langsam
too… = (viel) zu…
Gehen wir ins Kino?
So, are we ready to go to the cinema? Which movie are you going to see next? Try to have a conversation about what you want to see and why. Can you talk a bit about it afterwards?