German Steps: Learn to Speak German Online for Free!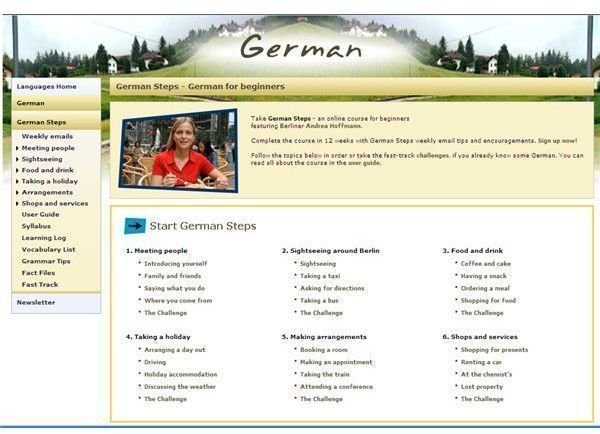 A Basic Overview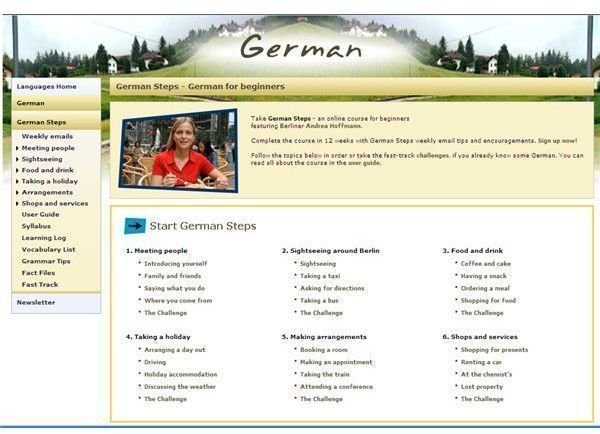 German Steps is a free online language learning course hosted by the BBC. By using German Steps, you can learn basic German vocabulary and phrases that are practical for everyday use whether you are just vacationing in Germany or moving there for a longer period of time.
On the German Steps homepage, you will see the six units listed in the middle of the page; each of these units contains four lessons, each of which covers a different topic. For example, under the first unit, Meeting People, you will see the first lesson is called "Introducing Yourself." In this lesson, Berlin native Andrea will take you through the important words and phrases you would need to know in order to properly introduce yourself. She does this by introducing herself to Claus, a man she is sent to meet at the airport. You see photos, hear the spoken German, and have the text displayed (optionally) in German and/or English.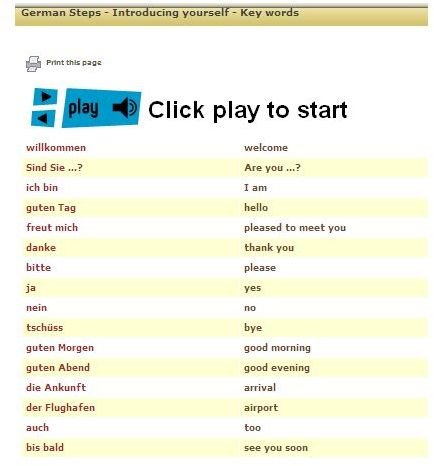 For this lesson on "Introducing Yourself," you can review the vocabulary with the help of a Key Words list, you can study a bit of German grammar with the Grammar Note, and you learn more about culture related to the topic with the Cultural Note. Each lesson contains these same elements for learning.
In total, there are twenty-four lessons divided among the six units, and each lesson contains pictures accompanied by audio as well as the Key Word, Grammar Note, and Cultural Note.
Besides the twenty-four lessons, the German Steps webpage offers these other resources to help you navigate the program: a User Guide that explains how the whole program is laid out, a Syllabus that tells you exactly what you can expect to learn with German Steps, Learning Logs that you can print out to track your progress, an A to Z Vocabulary List, dozens of interactive Grammar Tips, and fascinating Cultural Notes.
An In-Depth Look at the "Meeting People" Unit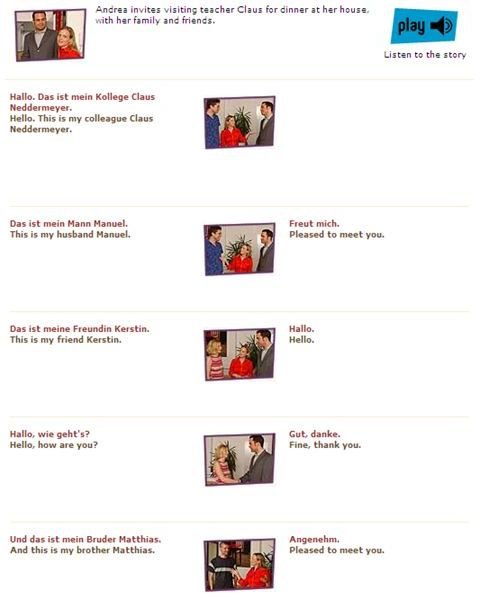 Here is a more in-depth look at one of the German Steps units: "Meeting People." Each unit contains these same basic elements. In the "Meeting People" unit, you will cover the following topics in German:
Introducing yourself
Family and friends
Saying what you do
Where you live and come from
This unit will introduce you to the following German grammar points:
Introduction to pronunciation
Cognates with English
Possessives
Personal pronouns
Prepositions
Finally, the "Meeting People" unit will teach you important cultural information on the following topics:
Greetings and politeness
Family and marriage
Jobs and work
Regional Identity
As you can see, this unit of German Steps gives you a balanced introduction to many important aspects of the German language: vocabulary (written and spoken), grammar, and cultural notes.
Units for Sightseeing, Holidays, Food and Drink, Arrangments, and More!
Each of the six units of German Steps contain topics, grammar points, and cultural information just like the "Meeting People" unit described above. But, the six units will delve into many different topics that you should be able to understand and talk about in German! Here is a quick overview of what the other five units will cover:
Sightseeing--in this unit, you will learn the German words and way to…
Sightsee
Take a taxi
Take a bus
Ask for and give directions
Food and Drink--in this unit, you will learn how to talk in German about…
Coffee and cake
Having a snack
Ordering
Shopping
Taking a Holiday--this unit will help you be ready to vacation in Germany by covering the topics…
A day out
Driving
Renting
Weather
Arrangements--this unit, all about logistics, will help you negotiate the following situations in German…
Bookings
Appointments
Train
Attending a conference
Shops and Services--this unit teaches you about…
Shopping for presents
Renting a car
At the drugstore
Lost property
The Challenge Lessons
If you have extra energy or interest, you can enhance your German learning by completing the "Challenge" lesson that accompanies each of the six units.
The challenge lesson in Unit 1 begins with this introduction: "You're going to stay with Michael and Katrina Schmidt in Germany to improve your German. They meet you at the airport…" You then click through various images and phrases, having the opportunity to either select the proper phrase or type it out in German. This activity really is a challenge because it assumes some underlying knowledge, but it is a great way to stretch your German ability even if you can't answer all the questions perfectly.
If you work through the six units of German Steps and especially if you tackle the "Challenge" lessons at the end of each unit, you will succeed in learning a good working knowledge of basic German. Your ability to understand spoken and written German and your ability to produce it as well will put you at ease the next time you find yourself in a German-speaking situation!