Learning German: Vocabulary for Grocery Shopping, Cooking and Cooking Implements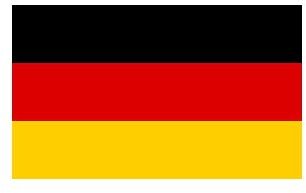 Markets
Germany is quite famous for her fresh products markets. Visit a 'Wochenmarkt' or weekly market, mostly held at weekends in the
marketplace or 'Marktplatz.' Or else shop in a supermarket. Be aware, that Germany uses the metric system. Here are some measures;
1 inch = 2.54 cm (Zentimeter)
1 foot = 30.4801 cm
1 pound = 453.5 gr
1 gallon (US) = 3.7853 liters
1000 gr = 1 kg (Kilogramm)
500 gr = 1/2 kg or 1 Pfund
You buy fruit, meat, fish and vegetables by Kilogramm or Gramm.
1 piece = 1 Stueck (n)
1 slice = 1 Scheibe (f)
1 dozen = 1 Dutzend (n)
Remember also, that shopping trolleys are available at supermarkets, but you need either a 50 cent coin or a 1€ coin to operate them. The money is returned when you return the trolley. Most supermarkets charge between 1 cent and 10 cents for plastic carrier bags. Get a shopping basket for your grocery shopping. Sales tax is included in the price tags and not charged separately at the check out.
Shopping and Groceries
Shopping basket - Einkaufskorb (m)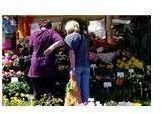 Shopping trolley - Einkaufswagen (m)
Groceries - Esswaren (f)
Market - Markt (m)
Supermarket - Supermarkt (m)
Check out - Kasse (f)
Where is….? - Wo ist….?
I want…. - Ich moechte….
Bread - Brot (n)
Butter - Butter (f)
Bun - Broetchen (n)
Ham - Schinken (m)
Bacon - Speck (m)
Cheese - Kaese (m)
Eggs - Eier (f)
Sausage - Wurst (f)
Jam - Marmalade (f)
Meat - Fleisch (n)
Fish - Fisch (m)
Chicken - Huhn (n)
Low fat - fettarm
No fat - fettfrei
Oil - Oel (n)
Fruit - Obst (n)
Vegetables - Gemuese (n)
Lettuce - Salat (m)
Tomatoes - Tomaten (f)
Onions - Zwiebeln (f)
Peas - Erbsen (f)
Beans - Bohnen (f)
Baked beans - Baked beans
Tunafish - Thunfisch (m)
Salmon - Lachs (m)
Condiments- Gewuerze (f)
Salt - Salz (n)
Sugar - Zucker (m)
Pepper - Pfeffer (m)
Asparagus - Spargel (m)
Carrots - Karotten(f)
Potatoes - Kartoffeln (f)
Pasta - Nudeln (f)
Flour - Mehl (n)
Rice - Reis (m)
Brown - braun
White - weiss
Organic - organisch
Sauces - Sossen (f)
Soup - Suppe (f)
Tin - Dose (f)
Fresh - frisch
Frozen - gefroren
Milk - Milch (f)
Coffee - Kaffee (m)
Tea - Tee (m)
Now that you have all the ingredients, you want to go home and start cooking.
Kitchen
Kitchen - Kueche (f)
Stove - Herd (m)
Gas or electric? - Gas oder elektrisch?
Grill - Grill (m)
I want to cook - ich moechte kochen
Fridge - Kuehlschrank (m)
Freezer - Gefrierschrank (m)
To bake - backen
Sink - Spuehlbecken (n)
References
For online help pronouncing German words, try LEO, a German translator with pronunciation. Just type in the word you want to hear, and click on the speaker.