A Favorable Review of Tell Me More French by Auralog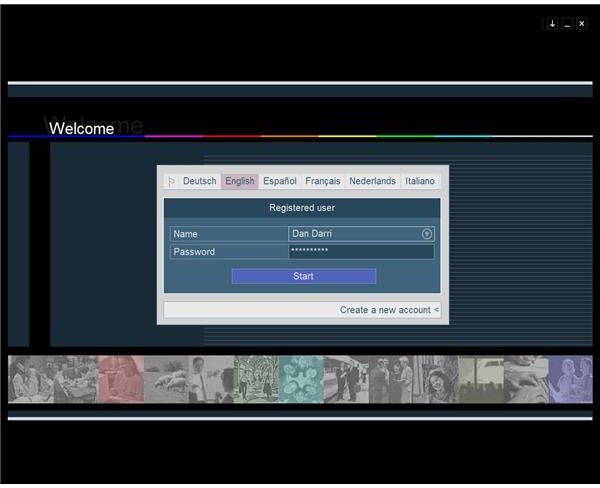 Getting Started
I started this review of Tell Me More French thinking I would utilize the software from the perspective of a busy business traveler who wants to accomplish several small things upon his landing in Paris. My goals, as I started to use the software for the first time, were to learn how to hail a cab, tell the cabbie to take me to my hotel, request where my friend's office address is located, travel to the office, and then get back to the hotel for the evening.
Security & Privacy (5 out of 5)
What's Hot:
Security and privacy in language software is not something I'm used to, as a long-time user of the Rosetta Stone series from Fairfield Technologies. The ability to set up multiple users secured by passwords is a pleasing surprise in Auralog's Tell Me More French. [See Image 1]
Installation & Setup (4 out of 5)
What's Hot:
Tell Me More French comes with four discs and a basic headset that uses your sound card audio jacks. As a user of speech recognition to do my job daily, if you're going to heavily use the speech recognition aspect of the software, I believe you would be best served by taking the time to purchase a nice USB headset.
Help & Support (5 out of 5)
What's Hot:
I was quite pleased with the quality of the in-application support in Auralog's Tell Me More French. An animated cursor travels the screen to show the user what is expected of them. Large text boxes hover next to the cursor and explain the screen in a quick and easy manner. [See Image 3]
User Interface (4 out of 5)
What's Hot:
The user interface is in Flash and is easy to follow. Thought and detail were put into the design of this user interface, and it shows. I was able to easily interact with it using my Windows Vista speech recognition features. [See Image 5]
What's Not:
The program window takes up the entire monitor, including the Windows taskbar, and only offers a minimizing close button. Screen real estate is precious to me and I prefer windows that I can size myself and stack as necessary. There is a lot of open wasted space in the interface that could be used to accommodate this minor feature.
Product Feature: Guided Mode (4 out of 5)
What's Hot:
Tell Me More French's guided mode takes the user through a set of activities and lessons designed to give them skills in reading and language comprehension, as well as writing and listening comprehension. I selected the ABCs as my first lesson per the recommendation on the screen. My first screen presented me with a large letter A and native male speaker asking me a question. There are similar screens for picture and word association (with and without speech recognition), as well as straight word association and words and functions. [See Images 6-10]
What's Not:
I expected more negative reinforcement in guided mode. It seems that the method employed, though I'm sure effective over time, is one that wants the student to experience and explore various situations and provide positive feedback to that interaction. This forces you to switch between translation modes to garner the understanding of the question and responses that you are experiencing. Compared to other software that begins each lesson with visual and audible association, as well as negative reinforcement when you make the wrong selection, this method seems a bit less conducive to my learning style.
Product Feature: Dynamic Mode (3 out of 5)
What's Hot:
I found more negative reinforcement, like I was expecting, in the dynamic mode. I also expected the dynamic mode to be adaptive and start you from the very beginning, moving you up based on your skills. Lending to that thought, when you open up the dynamic mode, you are presented with either standard objectives or personalized objectives.
Product Features: Other (4 out of 5)
What's Hot:
There are some other cool little features in Tell Me More French, such as the Conjugation Tool, Grammar Explanations, and the Day Planner. [See Images 15-18]
What's Not:
There was a feature called "Find Out More About a Word" that I couldn't seem to get to work. This sounded like a very interesting feature, and based on the interface, would have given me much of what I was looking for in the guided and dynamic modes. [See Image 19]
Images
Suggested Features
I would like to see Auralog dumb down the interface a little bit. I know this sounds like a strange request considering that I like the interface, but there's just so much information displayed and so many different places to go that I found myself lost within the application. A reduction in the number of choices for lessons and more leading application intelligence in the guided and dynamic modes would make for an improved experience.
Verdict
Tell Me More French by Auralog was a pleasant surprise. This is high-quality software that delivers an amazing amount of content in an easy-to-use interface. Tell Me More French is definitely geared for longer-term learning objectives, unlike other competitors on the market. The plethora of content looks to provide a solid understanding of the French language for any student.
Related Products
Rosetta Stone French, Instant Immersion French
Source: author's experience