Phonétique: Perfect your French Pronunciation with This Online Course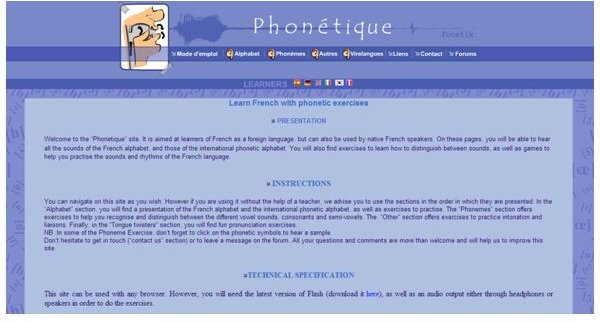 How to Perfect Your French Pronunciation With Phonétique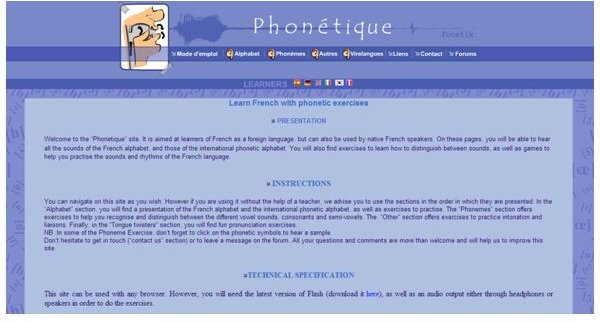 Phonétique, a website aimed at helping those who speak French as a foreign language (but which can also be used by native French speakers), is a well layed out website that can help you perfect your French pronunciation by listening and then by writing and orally reproducing the sounds you hear, using the exercises provided on the site.
Phonétique provides audio for all the sounds of the French alphabet, as well as all the sounds of the International Phonetic Alphabet. The site also offers exercises that will teach you how to distinguish between different French sounds as well as games to help you practice them. It will also help you develop a good ear for the rhythm of spoken French.
To get a good overview of French pronunciation, simply go through the website using the tabs across the top of the page. In French, these tabs are titled Alphabet, Phonèmes, Autres and Virelangues.
Alphabet – This section present the French alphabet and the International Phonetic Alphabet along with exercises for practice.
Phonemes – This section offers exercises to aid you in recognizing and distinguishing between the different sounds of French including vowels, semi-vowels and consonants.
Other – This exercises in this section help you practice French intonation and liaisons.
Tongue Twisters – This section provides some fun pronunciation exercises.
A Sample Interactive Exercise From Phonétique
Each exercise on Phonétique is interactive; after giving you a chance to listen to including clearly-pronounced French words, the site engages you in an activity that requires you to prove your understanding of French pronunciation.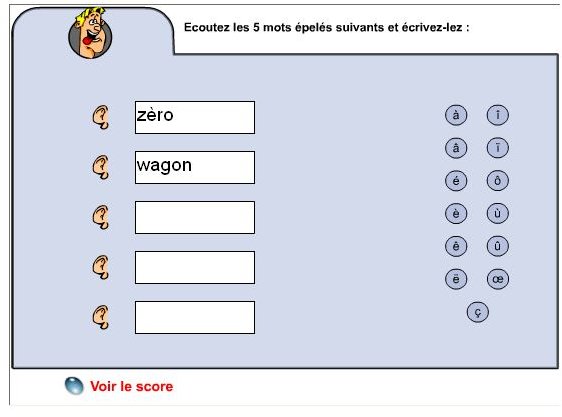 Take this screenshot of one of the activities, for example. In this activity, under the Alphabet heading, you are given five words that are clearly spelled in French. Each word is spelled out when you click on the symbol of the ear to the left of the blank space. Then, you spell the word in the blank. (Vowels with accents are nicely provided to the right, so you don't have to figure out how to make French accent marks on your keyboard.) Once you have answered the questions to the best of your ability, you can check your answers to see how you did. These exercises are great for testing your understanding of French pronunciation.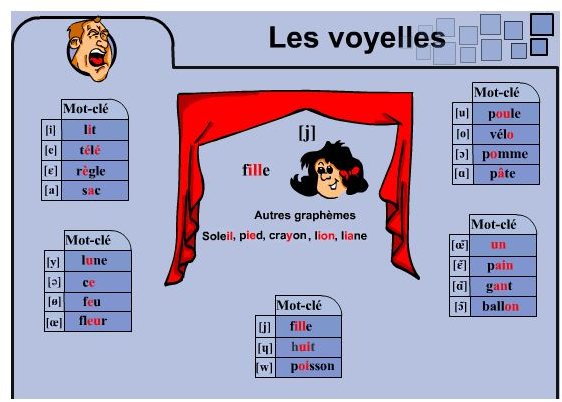 This second screenshot is a sample of one of the teaching files (as opposed to the exercises). These parts of the site are interactive as well, allowing you to scroll over parts of the screen and click to hear various vowel, consonant, and semi-vowel sounds as they are pronounced in native-spoken French.
Phonétique is a great site to help you perfect and evaluate your understanding and production of excellent French pronunciation.
Each exercise uses Flash player, so make sure you have that installed before trying to utilize this site.