Overview and Language Resources: Free French Learning at Babbel.com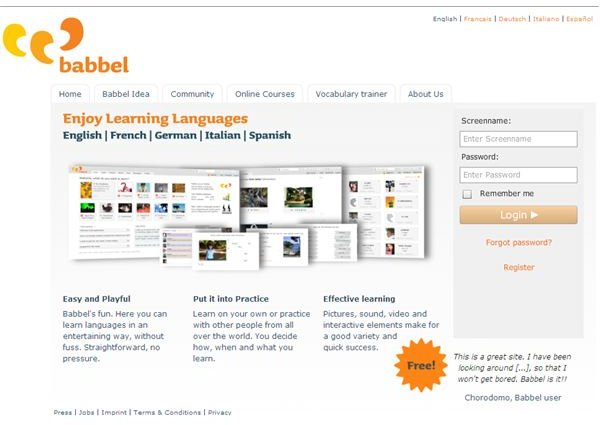 An Overview of Babbel.com
Where should you begin when you go to the Internet to learn French? I recommend starting somewhere that offers a free, well-organized, cohesive, and comprehensive beginning language course (along with side perks like other language-learning pals and chat rooms). One great source is Babbel.com.
Babbel.com, a website based in Germany, is on the forefront of excellent online language learning software if you want to learn one of the following major world languages: English, French, German, Italian, or Spanish. This article will focus on how you can use Babbel to jumpstart or supplement your personal study of French; however, keep in mind that you could use the website equally successfully to learn one of these other four languages.
There are purchasable lessons available through Babbel, but this article will just review the French learning resources that are totally free (and totally cool). If you want to utilize what's available on Babbel, you'll need to set up a free personal account to have full access to the site.
Once you've set up your free account with Babbel, read on to discover how to navigate Babbel's French language learning sections.
The French Language Resources in Brief
Babbel is exceptionally well organized. The design is logical and clean cut, making it quite simple to navigate the site and track your progress.
Once you've set up your account, log in: you will see seven tabs across the top of the page. The second tab is labeled "Learn." Click on the "Learn" tab to get a sneak peek at all the French resources at your disposal. Under the "Learn" tab, you will see three basic sections of French language material (listed in a column on the left side of the page):
Tutorials
Writing
Words and Phrases
French Tutorials

On Babbel, you can work through three French tutorials: Première rencontre, "Bonjour, je suis Alex!", and J'aie une question. Each tutorial will lead you through audio and written forms of the important phrases, complete with helpful tips in English that will let you know how and when to use the different phrases you're being taught.
1. Première rencontre (First contact: greetings and farewells). In this section,you will learn all the important phrases you need for meeting people, introducing yourself and others to one another, and saying goodbyes.
2. "Bonjour, je suis Alex!" ("Hi, I'm Alix!" - First dialogue, exercises and the verb "to be"). In this section, you will learn a very important French verb and the all-important personal pronouns.
3. J'aie une question ("I have a question": Words and phrases for basic questions). In this tutorial, you'll learn the interrogative pronouns and other essential words and phrases you'll need to ask questions in French.
Each of these three tutorials is indispensable to any learner who wants to learn the basics needed to get by in a French speaking country.
French Writing Topics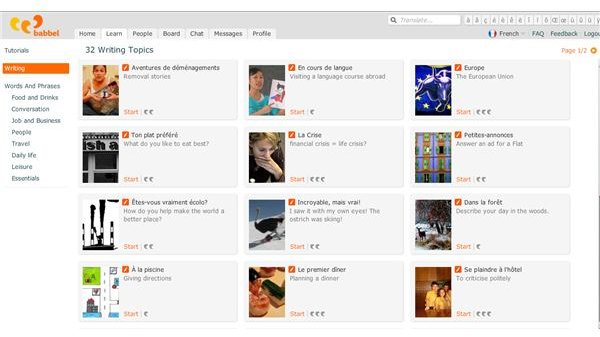 If you really want to learn French well, you will want to learn to write French well! Babbel.com gives you thirty-two French writing exercises, giving you the chance to write imaginatively, voice your opinion, and share your life experiences…all in French!
For example, there is one writing exercise on being green. When you click on this exercise, you will see the topic "Êtes-vous vraiment écolo?" You will be asked to write some sentences describing what you do to protect the environment. You will be provided with a number of phrases to help you along in your writing, such as "économiser l'énergie," "recycler," "le commerce équitable," and "la pollution."
Perhaps the most helpful part of each writing exercise comes after you have written it. At the bottom of the page, you will see options to send what you've written to "community," "friends," or "native speakers." This means that you will be able to have your writing evaluated by other members of the community who are native speakers of French.
Of course, in exchange, you will be expected to lend some of your native English-speaker expertise to those who are producing writing exercises in English: a very worthy language exchange.
Vocabulary Packages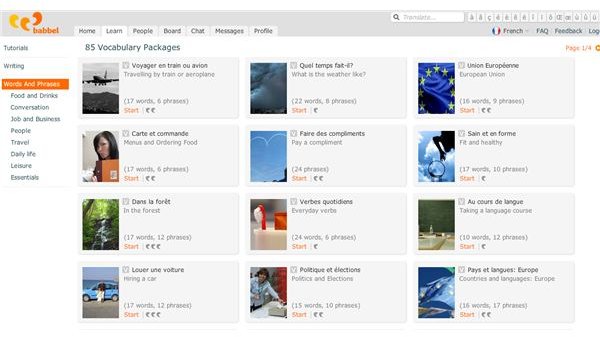 Babbel has a wonderful collection of French words and phrases, neatly organized into eighty-five vocabulary packages, which are grouped under the following headings: Food and Drinks, Conversation, Job and Business, People, Travel, Daily Life, Leisure, and Essentials.
Say you choose the vocabulary package "Faire des compliments" (Pay a Compliment), which will teach you twenty-four phrases. Once you click on the image for this package, you will guided through four rounds of learning (six phrases in each round) with an automatic trainer who shows you photos and says the phrases for you. You will learn phrases that translate into English statements like, "I love you!" and "I can always count on you. You are reliable."
Once you have completed all eighty-five of these free vocabulary packages and learned the words and phrases within, you will have an excellent ability to communicate in basic French! Thanks to Babbel.com's free French language learning resources, you can learn a lot of French online and have fun while you learn.