Learn to Speak French Deluxe: What You Will Learn (5 out of 5)
To put it simply, with Learn to Speak French Deluxe, you will learn a ton. This curriculum, through thirty-five basic lessons, will guide you through learning all the basic vocabulary and grammar in French. It will also give you plenty of opportunity for conversational practice, pronunciation analysis, and cultural fun through videos surveying the French landscape.
Learn to Speak French Deluxe: How You Will Learn (5 out of 5)
Learn to Speak French Deluxe is a highly interactive, multifaceted software package that allows you to interact with the language in many ways. It truly makes learning fun, and appeals to visual learners and auditory learners alike.
The software set consists of one reference book and five compact discs. There are thirty-five lessons of core curriculum and sixteen Extended Practice lessons. You can choose to follow the whole program (which claims to be a two-year program but could really be completed much more quickly depending how fast you wanted to go through it) or you can just select elements you enjoy the most.
This program is excellent because it has many interactive methods. The program is equipped with speech recognition technology, so that with your own microphone, you will be able to interact with native speakers of French through special "real-life" video/audio scenarios. As you speak, the program will analyze your voice to detect how closely you are speaking French with the proper accent. It will give you ratings so you know how well you are doing. There are countless games, exercises and lessons. Here is a general guide to the elements you will use to learn French with Learn to Speak French Deluxe:
Find Your Starting Point: This quick diagnostic test will help you determine your current level of French and what you still need to learn.
Customize Your Studies: Here you can follow the General Track, which guides you through all lessons. Or you can follow a Specialty Track, choosing particular lessons you want to focus on (for example, Travel, Shopping, Everyday Life)
Master Native Pronunciation: This portion of each lesson allows you to speak into the microphone, speaking certain phrases appropriate to the current conversation with a simulated native speaker. Then, based on how good your pronunciation is, the computer will give you a rating [Note: though this is a great idea, the computer is no substitute for a real speaker listening and correcting your pronunciation. You may find that even if you pronounce a word terribly, the program still give you a rating of "good." So take this section with a grain of salt].
Movies: There are cultural movies that explore various regions of France, complete with transcripts in both French and English.
Games: A variety of puzzles and games allow you to practice French while having fun.
Talking Dictionary: There is a dictionary that not only lists the French words, but also gives you an audio version of them (excellent for language learning).
Learn to Speak French Deluxe: Where You Can Find It (5 out of 5)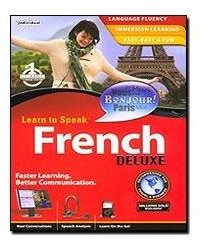 Learn to Speak French Deluxe is available on Amazon for $28.49 (normal list price is $29.99). This is edition 10. You can also buy earlier editions of the program, but they are not much cheaper, so if you want the one with the most features, choose version 10.
Learn to Speak French Deluxe: in Summary (5 out of 5)
The positive aspects of the Learn to Speak French Deluxe curriculum far outweigh any negatives. Although the speech recognition software (much touted in most reviews of this curriculum) leaves a lot to be desired as far as working well, the rest of the software lives up to expectations. The curriculum is well varied, interesting, and comprehensive. If you follow this program faithfully, you will not get bored, and you will find yourself becoming more and more fluent in French.