A Review of the Free Online Program BBC's Real Chinese: Learn Mandarin Chinese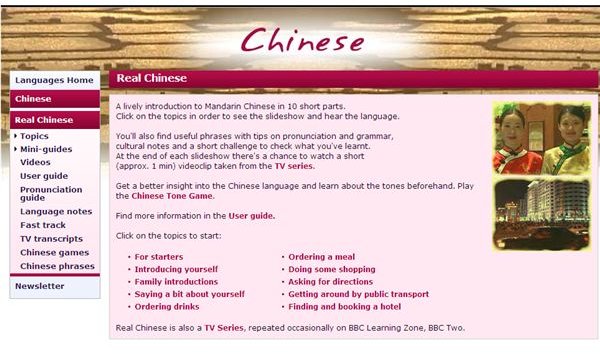 10 Lessons with Real-Life Vocabulary
BBC's Real Chinese helps you jumpstart your Mandarin Chinese language learning primarily through audio, photo slideshows, video and printable vocabulary lists. Through a series of ten lessons, Real Chinese will help you dive into learning to speak and understand one of the most widely-spoken languages in the world! Using this program, you will first learn some important information about Mandarin (including the tones of the language!). Then you will learn a little about the following topics: how to introduce yourself, order a meal, talk about yourself, introduce your family, do some shopping, ask for directions, get around using public transportation, and find and book a hotel.
Each of the ten lessons contains the following elements for learning:
An image slideshow (e.g., photos of family members, photos of produce at the market)
Optional English and/or Pinyin subtitles for the photos (Pinyin is the transcription of spoken Mandarin: it uses the Roman alphabet that English speakers are used to seeing)
A short video that incorporates the vocabulary learned in the lesson
A "Useful Phrases" list, a printable list of all the vocabulary for the lesson (it also includes audio files for all the words!)
A "Cultural Notes" popout, which gives you information on Chinese culture (e.g., explaining the logistics and norms at an open air food market)
A "Challenge" activity that gives you an opportunity to practice what you've learned in the lesson (e.g., under "Public Transport" the Challenge activity gives you five questions having to do with purchasing a train ticket)
(The following image gallery contains screen shots of the following elements of Real Chinese lessons: one of the videos, one of the "Useful Phrases" lists, one of the "Cultural Notes," and one of the "Challenge" activities)
Screen Shots from "Real Chinese" Lessons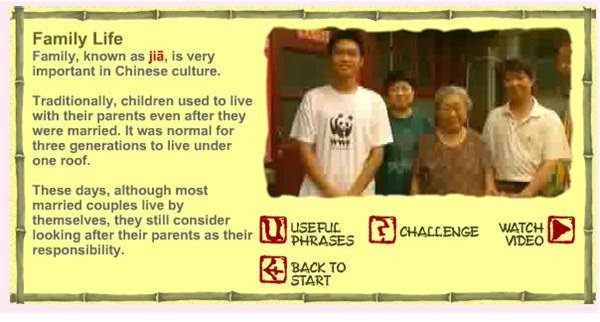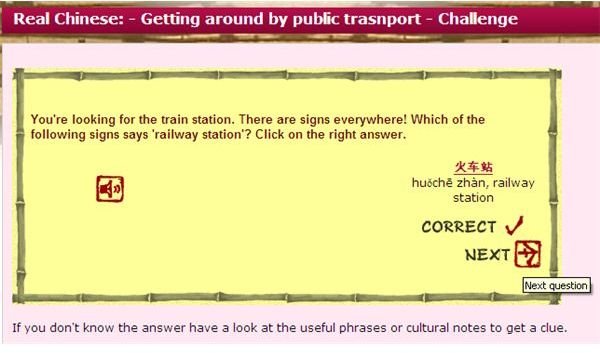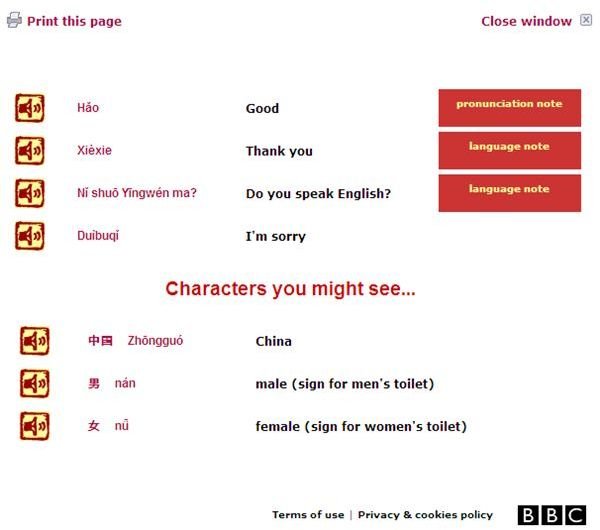 Mini-Guides on Tone, Pinyin & Characters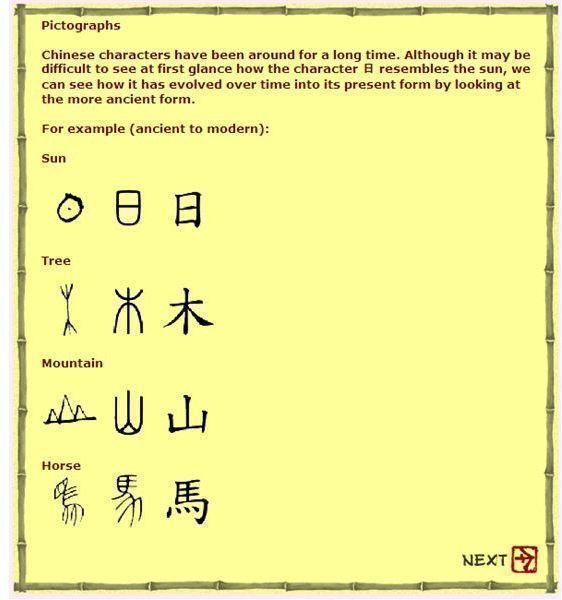 Another element that makes Real Chinese a good resource for learning Mandarin are its mini-guides.
Chinese is traditionally written with characters, and the relationships between the characters and the spoken forms of the language is complex (Mandarin is the main dialect of Chinese, but there are many others, and all of them use the same characters).
In addition to learning the characters, school children and those learning Chinese as a foreign language can be helped by learning Pinyin, the Romanized transcription of Chinese words in which the symbols correspond closely to the sounds of Mandarin.
Confused yet? There's a lot to learn about how the spoken and written forms of Mandarin work, and Real Chinese can help you learn more with the following miniguides:
Tones
Pinyin
Characters
Useful Links
With its videos and slideshows, Real Chinese is a fun introduction to Mandarin Chinese and is a good starter resource for anyone interested in speaking Chinese or exploring the Chinese language and culture.