How to Use the Google Translator Toolkit to Translate and Edit Documents and Articles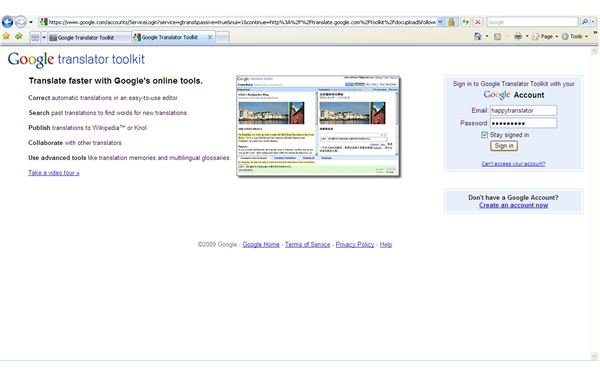 What Is the Google Translator Toolkit?
What is the Google Translator Toolkit, and how can it help you make better translations than a machine translator would?
The Google Translator Toolkit is a service that allows you to edit the translations that Google automatically generates. You can upload your personal documents, web pages, Knol articles and Wikipedia articles. Google generates an automated translation, giving you the translated text next to the original, allowing you to edit it sentence by sentence.
The toolkit is designed to help you network with other people who can help you with translation in addition to providing basic machine translation. So, while real human translation will always be far superior to any machine translation, this toolkit is designed to provide input based on past "real" translations as well as machine translation functions, giving you the opportunity for coming up with a better translation. When you do not have access to a native speaker of a language that you can talk with in person, this toolkit can help you.
Finally, the Google Translator Toolkit helps you keep information organized as you work. Its layout is very similar to the Gmail layout, so those used to using Google mail will have an easy time using this system.
Install
To use the Google Translator Toolkit, you will need the following:
A Google account, which you can easily set up online if you don't already have one. If you have Gmail, for example, you already have a Google account and can sign into that to use the Google Translator Toolkit. Having a Google account will also give you access to the many other translation features of Google Translate.

One of the following browsers and operating systems, which support the Translator Toolkit. Other operating systems or browsers may work as well, but Google only offers support for these ones:
Set Up
To install the Google Translator Toolkit, go to the Welcome to Google Translator Toolkit webpage, and log in with your Google username and password. You will be led through a short process of providing your location and time zone to help with translating.
Be aware that it is very important which country you list as your location because it will determine which language you can translate from! If you hope to translate from some other language into English, do not list the United States as your location; if you do, the system will default your translation settings as "from English," and you will only be able to translate from English into other languages. If, for example, you are planning to translate documents from French, set your user location as France.
Uploading and Translating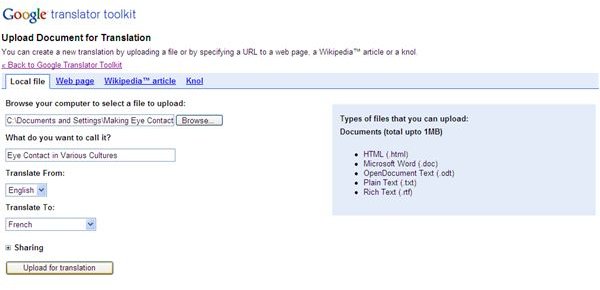 Once you've signed in to your Google account, select the Upload tool. You can choose one of the following tabs depending on what content you wish to upload for translation:
Local file
Web page
Wikipedia article
Knol
Suppose you want to upload a file from your computer. Browse to find the file. Then choose a name for it. Choose which language to "translate from" (this will be whichever language is spoken in the country you selected as your home country during sign-up). Finally, choose which language to translate into and click "Upload."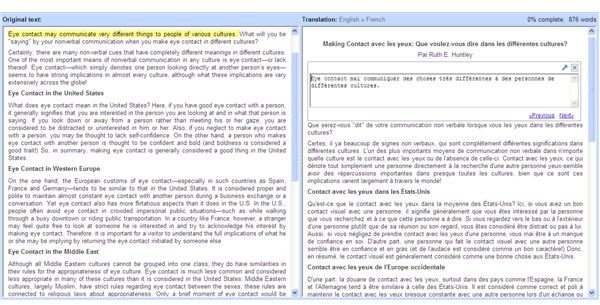 Once you have uploaded your file, you will see the original document on the left and the machine translation on the right. You will see the title and the first sentence or phrase in a small box on the right; you can navigate through the text so that any sentence of the text appears in this "editing box." You can either click in the small box to edit, or you can select "Show Toolkit."
When you click on "Show Toolkit," you will see four tabs that may (or may not) have helpful translation suggestions for you:
Translation Search Results (This would be available if someone had previously translated this same phrase and it was stored in the system.)
Computer Translation (This is just the normal machine translation which is, of course, mechanical.)
Glossary
Dictionary (This gives various translations of a word in the language you're translating into if you select a single word of the original text.)
Finally, the Google Translator Kit allows you to send and download the translated file for further input from other people. If you know someone who speaks the target language you're translating into, their input will be invaluable in coming up with a true translation.
Keep in Mind
In summary, the Google Translator Toolkit can be helpful in the following ways:
It provides a complete machine translation of a document.
It stores and displays your original content and translation in a clear, readable format.
It allows you to edit the document line by line.
It provides helpful translation hints from language dictionaries or previously translated segments.
If you choose to use this toolkit, you should keep in mind the following:
Google stores your translations (unless you specify higher privacy settings) for use by people who may be translating similar or the same content in the future.
Machine translation can never replace native speaker translation.
References
This article has been placed in our archives.