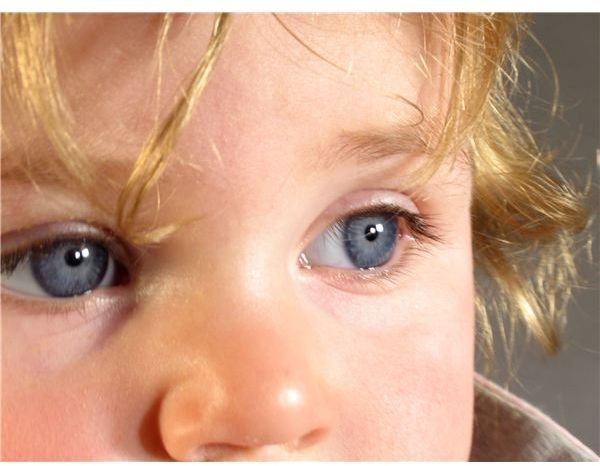 No one said teaching two year olds was easy. Toddlers require patient teachers willing to let them explore, while still providing safe boundaries. A two year old loves to test their independence and never stops learning. If you have a class full of children in their third year of life, there are certain things you should know about their development and learning capabilities.
Emotional Development
Since independence is such big issue for two year olds, they often make a big fuss about accomplishing tasks without assistance. Sometimes those tasks are obviously too difficult for their skills and they become easily frustrated. Although two year olds have language skills that allow them to construct simple sentences, they still have difficulty expressing their thoughts. The frustration can cause them to have temper tantrums. Allowing children a single comfort item in the classroom can help them deal with strong emotions and meltdowns, suggests the article, "Your Two Year Old" on PBS.Org. Around this age, however, children also develop the ability to express a sense of humor.
Social Development
Two year olds play side by side, but don't yet interact with each other much during play. They seek adult intervention during any peer conflicts and have difficulty sharing toys. At this age, they aren't capable of learning how to share because they are more focused on other areas of their own development like speech, according to NNCC.Org. Children begin frequently imitating parental behavior by playing make-believe. At this age, however, they often act shy around unfamiliar adults.
Physical Capabilities
Physically, two year olds perfect many gross motor skills like walking, running, jumping, and kicking a ball. They also begin practicing fine motor skills by scribbling pictures and squeezing play dough. Although they try to throw balls overhand, accuracy isn't great at this point. Teaching fingerplays like the "Itsy Bitsy Spider" helps develop fine motor skills.
Intellectual Capabilities
Two year olds experience quick growth in the language area. During this year, they learn to construct two to three word sentences and love listening to books. They also begin singing songs at this age, like the "ABC" song. Although they might know the words to the alphabet song, however, most two year olds don't yet recognize written letters. Math skills for teaching two year olds include learning to sort shapes, and completing short puzzles 8 pieces or less, according to PBS.Org.
Strategies for Teaching Two Year Olds
Two year olds wanting to show their independence only resist when teachers or parents try to force their will. Instead, give the toddlers acceptable choices to simple questions. "Do you want white or chocolate milk?" "Do you want the red or blue crayon?" "Would you like to play in the sand or climb on the jungle gym?" Avoid open ended questions, but give the child some choices. Take advantage of the two year old's desire to imitate adult actions by mirroring educational fingerplays with the students. Also, allow preschool children to explore and create at this age. Modeling clay, paper, and crayons help them develop their fine motor skills and creativity at the same time.
Two year olds are capable of learning simple fingerplays, songs, and chants. These encourage adult imitation, which children at this age love. Also, these toddlers can jump, run, climb, and throw an overhand ball. Outdoor games like catch encourage children to practice these developing gross motor skills. Toddlers want to learn as much as they can. With proper guidance, two year olds thrive in a preschool environment.
Sources:
PBS Parents, "Your Two Year Old", accessed 6/19/14.
Image Credit:
Anitapatterson at Morguefile.com