Helping Baby Explore his World
Parents and caregivers can help infants develop cognitive skills just by picking the right toys for babies to explore. When choosing toys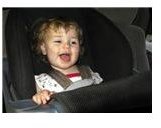 for infants, consider the child's age in months. A toy for a 3 month old will be different from one for a 9 month old, since each child is at a different stage of cognitive development. Also, be aware that infant developmental areas overlap. Fine motor skills, social, and cognitive skills will usually overlap with children aged 0-12 months.
0-6 Months
Babies 0-6 months are just beginning to use toys in learning, but choosing the right toys can help these skills to develop on schedule. A newborn will respond to the contrasting colors of black and white, as well as the sound of a rattle, so gently shaking a black and white rattle near baby's face will encourage him to attend to it. Young babies love faces, so try holding a toy with a face on it to stimulate him. Brightly colored lights and music are also interesting and stimulating to young infants. By the age of 3 months, brightly colored rings can be used to facilitate new skills. Hold the ring in front of your face to help baby visually attend to your face.
This age is perfect for toys that dangle overhead. Choose bright colors with sharp contrasting patterns that make noises when baby smacks them. By the time baby is 4 months old, he can reach for his toys. Encourage baby's excitement by choosing toys that make interesting sounds at this age. You should see a lot of kicking, arm waving, and smiling when you pull out a 4 month old's favorite toy.
Activity blankets with squeaking sounds and bright patterns are good for this age. Look for ones with unbreakable plastic mirrors too, since babies love to see their own face. A 6 month old may be sitting alone. Toys like stacking cups, glowing plush toys, and ringing telephones with buttons are favorites for babies who sit alone or with support.
7-12 Months
Developmental infant toys for 7-12 months include toys that babies can use more independently. Infants of this age have more control over their hands, are more mobile, and able to use a toy to induce a specific reaction. Stacking toys, sorting toys, and toys with buttons that respond with lights and music are great for this age group. Pull toys become favorites, as well as balls, and board books.
Read these first books to your baby, naming objects in the pictures. This will encourage language development. Make story time a part of your daily routine at this age if you haven't already. Blocks, ring posts, and walker/rider toys are good choices. Babies' first activity sets are perfect around a child's first birthday. Musical activity tables that allow baby to stand and play, are great when baby is pulling up and beginning to walk.
Developmental infant toys for cognitive development are those toys that encourage exploration. A baby learns best when he is allowed to discover his world through developmentally appropriate toys and interactions with an adult he trusts. More important than the toys used are what the parent or teacher does with the toys. When parents use toys to engage with their baby, toys can really help boost cognitive skills in infants.
References
The Early Learning Accomplishment Profile for Developmentally Young Children, by Elayne Glover, M.Ed., Jodi L. Preminger, M.A., and Anne R. Sanford, M.Ed.: Chapel Hill Training Outreach Project, 1998.