The Life of Allen Ginsberg: Brief Bio of the Beat Poet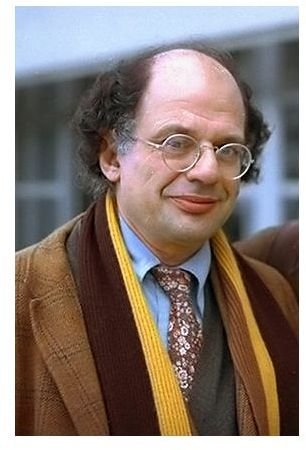 His Parents
Allen's father, Louis, was a poet and high-school teacher. His mother was an active communist in and out of mental hospitals her whole life. He said all of his mother's bedtime stories were on the same theme: "The good king rode forth from his castle, saw the suffering workers and healed them." His father "would go around the house either reciting Emily Dickinson and Longfellow under his breath or attacking T. S. Eliot for ruining poetry with his 'obscurantism.'" He was suspicious of both parents.
His mother's mental illness often made her delusional. She feared government listening devices and her mother-in-law murdering her. She slit her wrists but was unsuccessful at suicide. She spent much of her remaining years in Greystone, Rockland or Pilgrim State institutions. Her psychological problems were the backbone for Ginsberg's two most famous poems: Howl and Kaddish for Naomi Ginsberg. His experiences with her also granted him great sympathy and compassion for others with mental illness. He would become acquainted with a great many during the turbulent 60s.
The Beginning of the Beat Movement
In the 40s, Ginsberg attended Columbia University, where he met Jack Kerouac, William S. Burroughs and other characters who would strongly affect the future of language in America. Together, they believed in a "New Vision", which Ginsberg described in his journal: "Since art is merely and ultimately self-expressive, we conclude that the fullest art, the most individual, uninfluenced, unrepressed, uninhibited expression of art is true expression and the true art."
In 1948, while reading the poetry of William Blake, Ginsberg had an auditory hallucination. Initially he thought it was the voice of God, but came to realize it was the poet himself. "The Blake Vision" lasted several days, during which he realized the commonality that links the universe. He claims the experience was not drug-induced, but he did later use drugs in an attempt to revisit the mystical place he had found.
The gang of Columbia artists migrated to San Francisco, where they met like-minded revolutionaries. He met and fell in love with Peter Orlovsky, who would remain his life-long partner. Ginsberg joined the San Francisco Renaissance, met Zen enthusiasts and founded Beatitude magazine. Wally Hedrick, painter and co-founder of Six Gallery, invited Ginsberg to organize a poetry reading at the gallery. The result became legend.
Howl
October 7, 1955, Ginsberg read Howl for the first time in public. The poem, composed of long free-verse lines, is a naked and profane journal of Naomi Ginsberg, tortured artists, asylums and experimental sexuality. "Ginsberg read on to the end of the poem," recalls curator Michael McClure, "which left us standing in wonder, or cheering and wondering, but knowing at the deepest level that a barrier had been broken, that a human voice and body had been hurled against the harsh wall of America." The story of that night is retold by Kerouac in his novel The Dharma Bums.
The next year, City Lights bookstore published Howl and Other Poems. The book was banned for its explicit content and the publisher was put on trial. Judge Clayton W. Horn ruled in favor of Ginsberg and City Lights, stating: "Would there be any freedom of press or speech if one must reduce his vocabulary to vapid innocuous euphemisms?"
The attempt to repress Ginsberg's poetry only made it famous, allowing him to be a professional poet the rest of his life.
Ginsberg Around the World
From 1957-62, Ginsberg and Orlovsky took up residence with Gregory Corso, Burroughs and other writers in a Paris lodging house that came to be know as the "Beat Hotel". Photographer Harold Chapman documented the adventure on film. Ginsberg completed Kaddish there and all of his compatriots enjoyed a productive period.
He then travelled across India, meeting important political figures and influential Bengali poets. In 1965, he read all across London, including the June 11 International Poetry Incarnation, which brought 7000 people to Royal Albert Hall.
Ginsberg grew deeper and deeper into Buddhism and Krishnaism. Chanting became an integral part of his gatherings. He supported various swamis with his time, reputation and money, including his participation in San Francisco's Mantra-Rock Dance. The event exposed a generation to the ecstasy of chanting and meditation in 1967. With Tibetan Buddhist Chögyam Trungpa, founder of Naropa University in Boulder, Colorado, Ginsberg founded the Jack Kerouac School of Disembodied Poetics.
Activism
Until his death in 1997, Ginsberg never stopped fighting for the truth. The Howl trial set a legal precedent for free speech.
In 1968, he organized writers and editors to stop paying taxes in protest to the Vietnam war.
In 1971, he wrote September on Jessore Road to publicize the suffering caused by the Bangladesh Liberation War.
Throughout the 70s, Ginsberg worked with Alfred W. McCoy on his book Politics of Heroin in Southeast Asia. No one took Ginsberg's essays and articles seriously until 1978, when the New York Times apologized for not looking closer at his allegations.
In 1994 he published the essay "Thoughts on NAMBLA", explaining why he had joined the North American Man/Boy Love Association: "In defense of free speech." His association with the group remains somewhat controversial.
Ginsberg spent his life defending freedom of expression, sexuality and existence.
References