The Life of Sylvia Plath & Struggle with Bipolar Disorder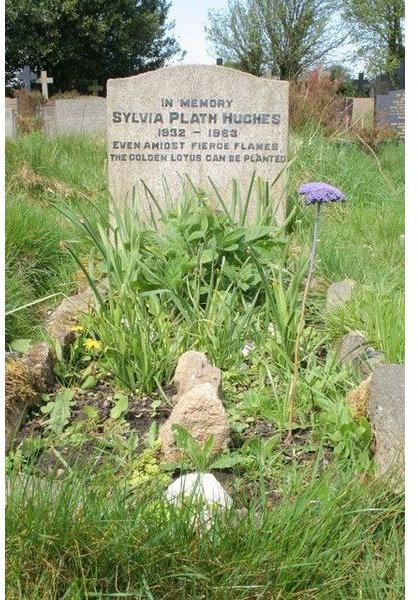 The Highs and Lows of Sylvia Plath
Sylvia Plath was a torch of a poet: intense, dangerous, destructive and, before long, exhausted and extinguished. In 1958, she wrote in her journal: "It is as if my life were magically run by two electric currents: joyous positive and despairing negative—whichever is running at the moment dominates my life, floods it." This is an accurate description of bipolar disorder.
She was born October 27, 1932, in Boston, Massachusetts. Her father was a German professor and an expert on bees. He died of diabetes when she was only eight. He was authoritarian, controlling and the inspiration for some of her early works. A selection from Daddy:
Daddy, I have had to kill you.
You died before I had time——
Marble-heavy, a bag full of God,
Ghastly statue with one gray toe
Big as a Frisco seal
Academic Life
Plath was an outstanding student, publishing poems at an early age and keeping straight A's throughout school. She was offered a scholarship to Smith College. She was thrilled to be "a Smith girl" and threw herself passionately into her studies.
Her poetry at this stage was very studious and measured, focussing on classic forms, line lengths and emulating masters such as Dylan Thomas, Wallace Stephens and WH Auden. She submitted numerous pieces to publications and contests, often being rejected but achieving some success.
She won a fiction contest for Mademoiselle magazine. Part of the prize was a guest editorship during the summer of 1953. Pressure, both self-inflicted and external, was beginning to wear on Plath. She returned from New York mentally exhausted, noting in her journal that she was unable to write or sleep. She spent hours with Freud's Abnormal Psychology.
August 24, 1953, Plath left a note saying: "Have gone for a long walk. Will be home tomorrow." She took a blanket, a bottle of sleeping pills and a glass of water to her mother's cellar, climbed into a crawl space and swallowed pills until she lost consciousness. Her mother and the entire city searched all over for her. Two days later, she was discovered in the basement, alive with eight pills left in the bottle.
She was treated at Belmont hospital with electro-shock therapy. She was readmitted to Smith and resumed her exemplary schoolwork. Her only novel, The Bell Jar, is a fictitious account of her descent into depression and her recovery. She graduated summa cum laude and won a Fulbright scholarship to Newnham College at Cambridge.
Search for Love
She spent much of her summers looking for love. She had high hopes to find a husband at Cambridge, where men outnumbered the women ten to one. She considered herself to be past her prime at the age of 23.
After reading a copy of Saint Botolph's Review, she was quite impressed in particular by the poetry of Ted Hughes. She attended a party to celebrate the publication of the book. She abandoned her date upon meeting Hughes and recited some of his poetry to him from memory. The spent the rest of the night dancing, yelling and kissing. Once that night she bit him on the cheek, making him bleed. She wrote the poem Pursuit for Hughes.
There is a panther stalks me down:
One day I'll have my death of him;
His greed has set the woods aflame,
He prowls more lordly than the sun.
Most soft, most suavely glides that step,
Advancing always at my back;
From gaunt hemlock, rooks croak havoc:
The hunt is on, and sprung the trap.
Marriage & Career
Plath struggled with conflicting emotions for multiple men before marrying Hughes in 1956. Each blossomed creatively with the other's influence. Plath submitted Hughes' work to publishers and contests. They travelled Europe before settling back in Cambridge. They both found work teaching. Plath found the work much more exhausting than she expected and worried that she'd never have time to write again. Also, the faculty she'd admired as a student turned out to be judgmental as colleagues, at least in Plath's mind. She was quite paranoid about her ability as a teacher. She soon resigned the position.
In 1958, she came to have doubts about her marriage. On the last day of class, Hughes was supposed to meet her but did not show. She discovered him walking a path with one of his students, beaming and joyous. The girl ran off when she saw Plath.
They had two children together, but her suspicions increased. In the spring of 1962, she wrote Event:
Love cannot come here.
A black gap discloses itself.
On the opposite lip
A small white soul is waving, a small white maggot.
My limbs, also, have left me.
Who has dismembered us?
The dark is melting. We touch like cripples.
Hughes and Plath separated in the fall.
Single with two kids, sick and suffering through on of the coldest winters in English history, Plath was alternately depressed or feverishly writing. From four in the morning until her children woke around eight, she had the most productive period of her life. She wrote 25 poems in October alone.
Early on the morning of February 11, 1963, Plath left a note for her downstairs neighbor to call her doctor, put her head in her oven, turned on the gas and died.
Some say that she wished to be found. Her neighbor should have been waking soon, but the gas seeped downstairs and knocked him out for several hours. Had he seen the note in time, she could have been saved.
Manic-depressive disorder was not understood or properly treated during Plath's lifetime. Thankfully she left behind evidence of her talent.
References