How To Teach A Homeschool Geography Curriculum: Creative Ideas & Resources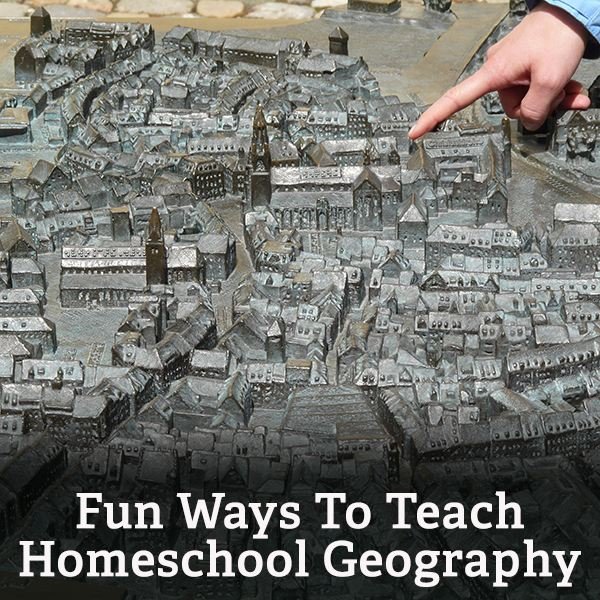 Most parents remember memorizing states and capitals, continents and countries as their geography course. The truth is geography is so much more. A parent who wants to know how to teach a homeschool geography curriculum has many options. Geography is a subject that can be integrated with history, science or literature. It is easy to teach and fun to study.
The definition of geography is the study of the physical features of the earth and its atmosphere and of human activity as it affects and is affected by these, which includes the distribution of populations and resources, land use, and industries. There are five basic themes in geography:
Location: The ability to describe where a place is located. Absolute location uses latitude and longitude, while relative location describes where something is in relation to other places.
Place: Can the student describe what a place is like? This includes the physical characteristics such as mountains, rivers, beaches, topography, and animal and plant life. It also includes human-designed cultural features of a place from land use and architecture to forms of livelihood and religion to food and folk ways to transportation and communication.
Human and Environmental Interaction: Humans have immeasurable interaction with our environment. The study of this includes how people use, affect, and are affected by our surroundings. Students can consider how people adapt to and modify the environment.
Movement: This theme studies movement and migration across the planet. It can include goods and resources as well as ideas, religion and communication.
Region: Regions have a characteristic of some sort that defines an area. It can be official boundaries, such as cities, states, and countries or perceived regions such as "The South," "The Midwest," or the "Middle East."
Geography Tools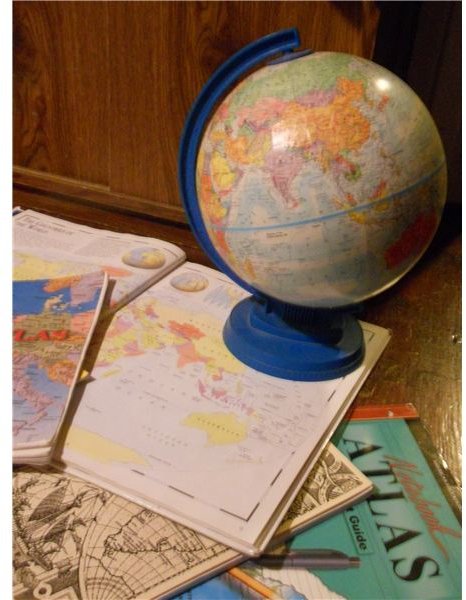 In order to have a great year exploring geography with your homeschool students, you need to have certain essential tools on hand.
Atlases, maps, graphs and charts are key. Most maps are available for free online but if you can get an old fashioned, hard-to-fold road map, kids can have a great time marking it up. If you are an AAA member, take advantage of their vast map choices.
Black outline maps are excellent for the hands-on learner. Drawing mountain ranges, rivers and cities helps students solidify knowledge.
Flash cards give you the opportunity to create fun games to help your student memorize geography facts such as capitals.
Materials to make salt dough or cookie dough maps help a creative child to embrace a geography lesson.
A library card opens up a world of free resources for your homeschool.
Include cookbooks or recipes for dishes that represent the regions or countries you are studying.
Capture Your Student's Imagination
A great geography curriculum should stimulate your student's interest in countries and cultures that they cannot see or touch. It should also open their imagination to faraway lands that long to be explored. Geography can be the bridge to a love of history, literature, science and the humanities. Try to make it as experiential as possible. The ideal way to teach geography would be through travel but since most families don't have the budget or time to do that creativity is necessary.
Write to the tourism and travel offices of the states or countries you want to study for colorful information. They will send you brochures and booklets, which can be used for reference materials. Students can also cut them up to create lap books.
Immerse your family in a new culture by taking a day or week, depending on the interest level, to explore the culture of another region, country or state. Students can decorate flags, draw pictures of the flora and fauna, and even download music from that culture to listen to. Research folk tales or traditional dress and dances to add to the lesson. The more aspects of an area of the world you can explore in a hands on way, the more memorable your lesson will be.
Take advantage of your computer and the Internet. Google Earth is an invaluable resource. Local search capabilities combined with satellite images and maps from around the globe allow students to see a photo of where they are studying. There is even an application that allows students to explore what areas of the world looked like in the past.
Multi-grade Resources
Around the World in 180 days: This book leads the user through geography and history continent by continent. Students are taught all about the continents, the major countries on each continent and the history, geography and culture of each country. This is not a textbook but a research guide. You will need to get your student to the library to find the materials necessary to finish the course. Around the World in 180 days is filled with questions that force the student to research and find answers on his or her own.
Galloping the Globe & Cantering the Country: This is another book based geography curriculum. It prompts the student to explore the different cultures of the world and the USA, which is an excellent way for children to learn. Students are directed to keep geography notebooks. It's divided into multi-discipline activities such as language arts, history, science and character studies and includes many suggestions for biographies and websites to incorporate into your geography study.
The Ultimate Geography and Timeline Guide: This is a fantastic all-in-one multi-grade book that is very helpful for homeschoolers who want to teach their children geography without being tied to an expensive curriculum. The Student Notebook is well laid out with vocabulary, suggestions on literature books, places for current events, and even missionary stories.
Seterra is a free, downloadable geography program that you can use on your computer. It's a great way to have your students practice independently. It includes graded quizzes, which in our house gets the competitive spirit going and everyone tries to get the best score by using it over and over. States, capitals and countries are memorized without the children even knowing it.
References
Author's experience as an educator
Geography Matters - http://www.geomatters.com/
National Council for Geographic Studies - http://www.ncge.org/
Google Earth - http://www.google.com/earth/
Photo Credit - B. Vogelgesang