Organize your Homeschool Teaching Year with a Checklist Template to Organize Your Curriculum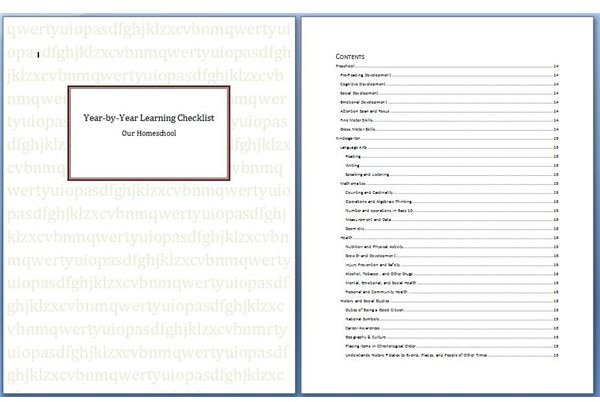 Have you ever started your homeschooling year feeling confident, but later discover you totally left out any sort of art enrichment activities? Are you worried that your student is behind? Are you new to homeschooling, and want to create a plan for how you will proceed with each of your students? No matter what your situation is, it's important at some point to think about your long-term homeschooling goals. One of the best means for doing this involves creating a year-by-year plan for the subjects you wish to teach and the curriculum you will use to do so.
There are a few outstanding advantages to viewing the whole of the homeschooling experience. First, you can focus on what is important to your family in terms of educating your children. If you want to include religious studies in your plan, you can, and you can break this down into age-appropriate goals per year. If you will be preparing your child for Ivy-League education, you can account for that as well. Second, you can determine your budget for your homeschooling materials. Additionally, if you know what resources you'll be using in future years, when you stumble upon a good deal, you'll know whether or not you will actually be using that particular item. Finally, you can plan for which subjects your student will need a tutor or enrollment in a class.
When you create a checklist, remember that you can adjust it for individual students as time progresses. Should a student decide he or she would like to major in engineering, you can build your curriculum around this. You can create a curriculum that helps your student start a business or one where a student volunteers. You might create a standard outline, and then modify it for each student in your homeschool.
Using the Template
I have provided a template for you to use when planning your home learning year by year checklist (click the link to download). I've included suggested items under each heading. When you open the template, fill in the information relevant to your homeschool on the first page.
If you're beginning planning in the middle, then it makes sense to create the checklist starting with the year your students are working on or going into. Start the checklist at the grade of the youngest student. You don't need to worry about lower grades unless you plan on admitting new students into your homeschool. For each subject, determine what needs to be taught at that grade level. You can use state curriculum standards, your favorite methodology's recommendations, or follow a particular curriculum.
You can be as general or as specific as you would like. Some people like to leave it pretty open, while others will be more content to plan out the specifics for each year including what field trips will be taken and the sorts of projects you will require the student to complete.
Preschool and Kindergarten
Preschool and kindergarten are the time to get the child hooked on learning. The primary purpose of "schoolwork" during this stage is to introduce the student to books, mathematical concepts, and social concepts. It's recommended that at these stages you do not push academic work at a table. For kindergarten, you'll want to keep the work time brief - no more than three to four hours out of the day. The majority of the student's time at this age should be spent exploring the world around him or her. Make sure you take care of the child's social needs at this stage. By taking time to have the child play in a play group and with friends, you can teach him or her valuable social skills.
For kindergarten aged children, you will want to add in language arts and mathematics lessons. By the end of these years, the student should be familiar with the alphabet, able to read basic sight-words, and count to 100 among many other skills.
Grades One through Four
In grades one through four, the emphasis is on picking up the skills necessary to succeed academically. Subjects at this age revolve around gaining competency with language arts and mathematics. Social studies and science should also be taught during this stage. Don't forget about health and P.E. This way, you can establish good habits in your student from the beginning. By adding P.E. in daily, you'll also increase the likelihood that your child will maintain a longer attention span.
You might also want to add in a language at this age. While many suggest teaching Latin at this age, you could teach your student the language you speak or Spanish.
Finally, don't forget about arts and music. You might want to incorporate these subjects in once a week although if you're so inclined, you could add them more frequently.
Grades Five through Eight
During this stage of development, children are adding to their ability to reason through problems. At this age, you might want to add a logic course to the curriculum. Math begins to look more like algebra, and students typically begin studying pre-algebra in sixth or seventh grade. Language arts often will turn to a study of literature, and students will become increasingly familiar with a wide range of classical authors.
While it might seem early, you may want to consider adding a career development course to the curriculum in about seventh grade. At this age, many students are already looking toward college. In this course, your student would explore the different careers associated with subjects he or she excels in.
A life-skills course might also be considered around this age. Don't forget that your student will need to be able at some point to survive on his or her own. For this reason, you'll want to make sure to teach how to cook, clean, and plan using goals. Remember to teach your child to type.
Finally, make sure your student is going to be on track to meet whatever requirements will be necessary for the goals he or she has set. For example, if your student wishes to attend college, make sure that the courses you offer are college preparatory. If your student wants to run his or her own business, teach an accounting course.
High School
In high school, it is absolutely vital to make sure you keep careful records of what your student does. By making the habit now, you'll increase the ease of applying for work or college when your student is ready to graduate. Most colleges require students take:
Four years of English
Four years of Math
Three years of Social Studies including an American Government and Economics course
Three science courses, two with labs
Two years of a foreign language
Assorted electives
You should challenge your high school student. If he or she will be working during this time, be sure that there is no interference with studies. Do not overbook your student in high school! While many students at this age work independently, some need additional coaxing for success. Don't forget about SAT/ACT preparation and drivers' education.
Adapting the Template to Your Needs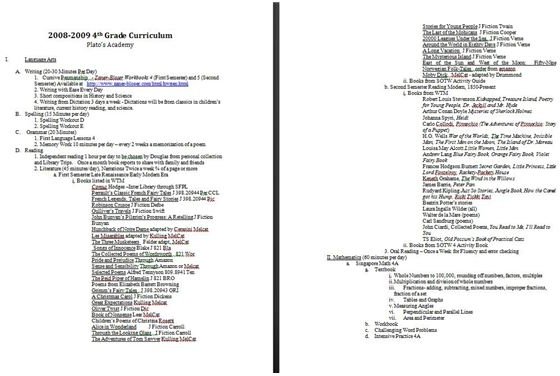 Don't be afraid to adapt the template to meet your needs. It is important that you do not take what I've included as the end all be all of a year-by-year plan. It's only meant to get you started on your planning path. If your student has special needs, by all means, adapt the plan to meet these needs.
Another reason you might want to adjust the template is that you follow a different method. For instance, if you follow the classical curriculum, your history and science checklist will look much different than it does in the template I've included for your use. You'll follow the four year cycle and focus on one topic of science each year.
You can also add or subtract subjects as you deem fit. Don't be afraid to get creative when planning your homeschooling years. Determining what you'll do in your courses is one of the most exciting parts of homeschooling.
References:
Ronda Roberts Levine has been homeschooling for going on five years, and has created her own (highly-detailed) homeschooling plan (like the one pictured in the above section.)
Screenshots courtesy of Ronda Roberts Levine